Newton-Le-Willows
Container Case Study
The transport company Express Logistic Limited, contacted Lion to create an office for their business. While they are based in Hinckley Point, Express Logistic were looking to open a new office to aid their growing business and ensure that they could provide the correct transport to their customers and thought that a container would be the perfect solution.
The container was to be used as an office, canteen and communal space for the company and so required that it be sectioned to fulfil all of their needs.
In the initial enquiry, the customer desired a toilet also be placed in the office. In standard fashion, our team provided different layout options to the customer, so that they had a choice as to what they wanted the end-product to look like. After some amendments on the drawing however, the customer decided that it was not necessary to add a toilet to the unit and proceeded with a full container office.
For this conversion, we used a new, 40x9ft container. To begin, we worked on the external modifications. We created external apertures which would be fit with windows and personnel doors, leading into the large office/communal area and the smaller office space. The unit features three windows with anti-vandal shutters and one small, swing window. Anti-vandal windows add an extra layer of security to your container and are great addition for conversions that store important documents or equipment.
To create a multi-purpose space internally, the unit was then lined with plasterboard and sectioned off by two full partitions, which created the separate communal canteen and large office area, driver waiting area and small office space. The first partition was built on the left-hand side of the unit which sectioned off the large office/communal area from the drivers' waiting room. This partition was also fit with a sliding window to enable those in the large office to communicate with any drivers standing in the waiting area. The last partition was placed on the far right of the unit and fit with a personnel door to gain access to the smaller office.
To complete the conversion, our team added complete electrical points, heating, and a kitchenette to serve as a canteen for the office workers.
Case Study
Summary
This conversion provided a new, multi-functional office for our client on a site which previously had no suitable accommodation and has served as a fantastic addition to their company; the client stating that they "Love It! [and] Can't wait to buy furniture for it."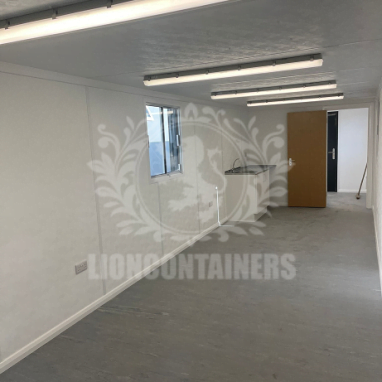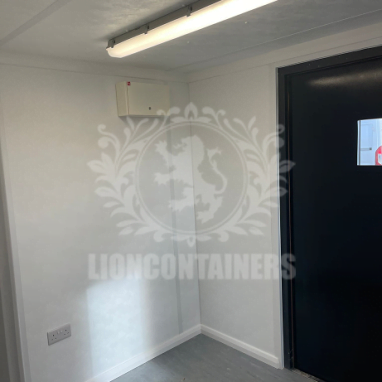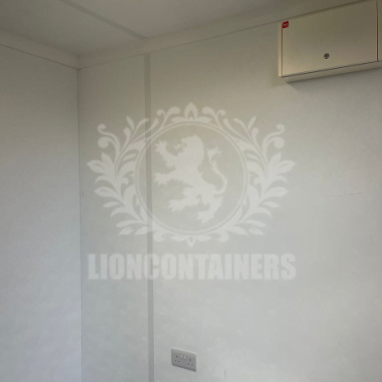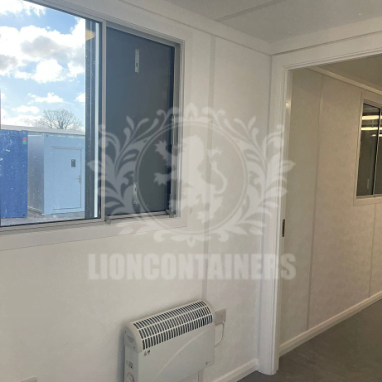 Project
Vitals
Location
Newton-Le-Willows
Container Size (Sq Ft)
360
Ready To Start Your Container Project?
We can help bring your idea to life, just fill in our form and a member of team will be in touch.