Darlaston, West Midlands
Container Case Study
Lion was contracted by a metal recycling company to repurpose a 40ft used container into an office and meeting accommodation to add to an existing container that they had onsite. Given the nature of the company, it was important that this conversion be made with a used container.
The 40ft container was painted in RAL 5002 (Ultramarine Blue) to match the container that it would be placed on top of and internally modified to include: lined walls, electrics, personnel door and partition, windows and shutters.
We lined the container walls and roof with 9mm MFC over 50mm insulation to timber stud frame. There was also a request to supply and install an additional wooden partition and personnel door (910mm x 2065mm) inside the container, with 2 compartment trunking the full length of the wall of the personnel door to allow for data install.
The container was fitted with full electrics, including: 4 no. 5′ single anti-corrosive light fitting and switch, 14 no. 13 amp twin socket and 3 no. 2KW wall mounted convector heater with single phase external isolator and distribution board. These electrics were then fitted out in white plastic containment with white plastic switches, sockets and spurs.
5 aperture and box frames were created and installed with standard insulated, weatherproof, double-glazed sliding windows (945mm x 945mm) and anti-vandal shutters (W 1060mm x H 1035mm).

Lastly, we fabricated a 3-tread staircase (2540mm high) with GRP anti-slip stair tread nosings to go alongside the container, enabling the customer to move between containers.
Case Study
Summary
The turnover of this project was longer than usual, as we were in discussions with the client to finalise a drawing of their container to ensure that the electrical points were exactly where the client required them to go and a site visit had to be done to make sure access and ground levels were level. Nonetheless, Lion was able to deliver the product as requested and the client was extremely happy with the end product. They even reported back that their bosses wanted similar containers to be built for themselves!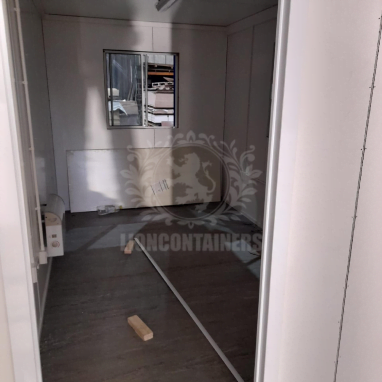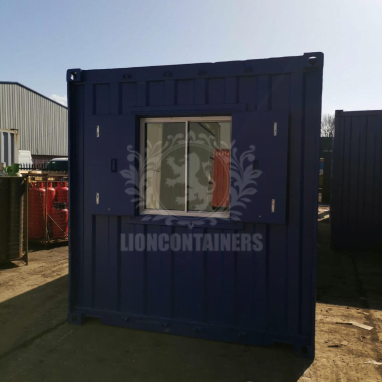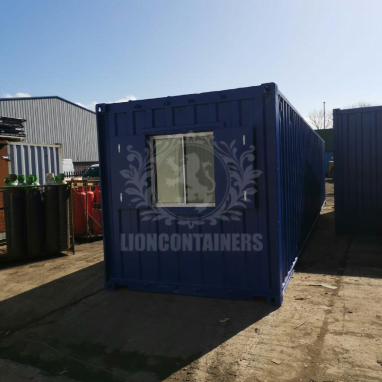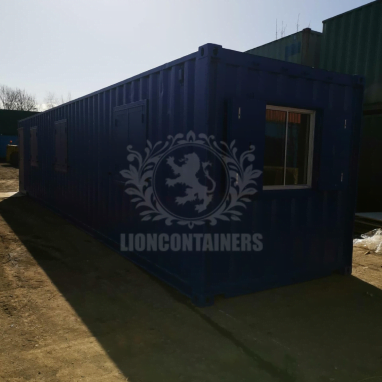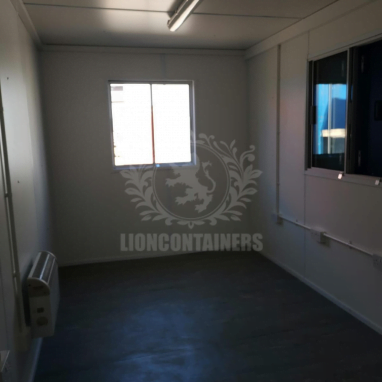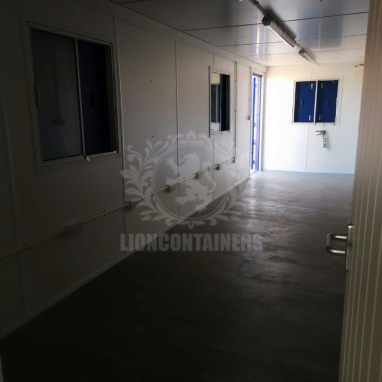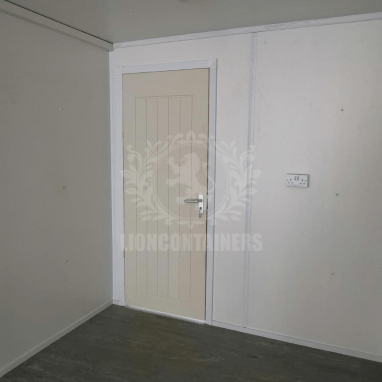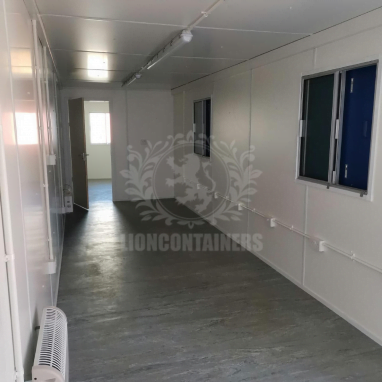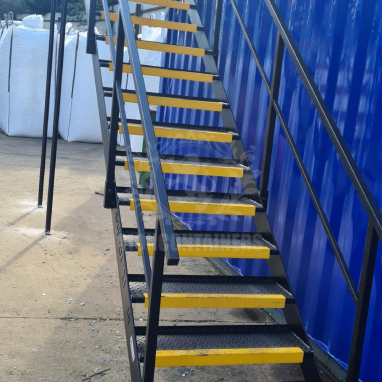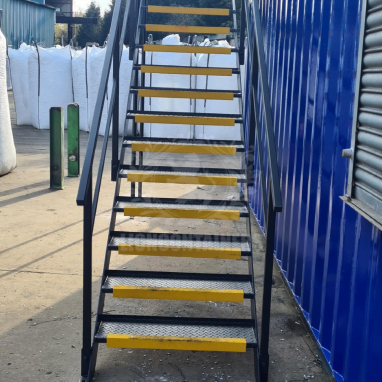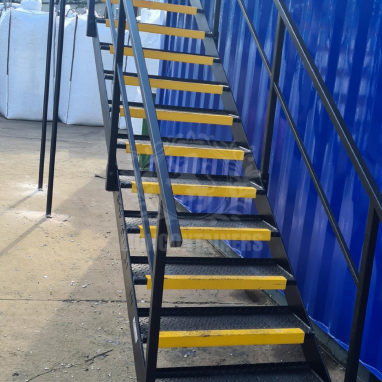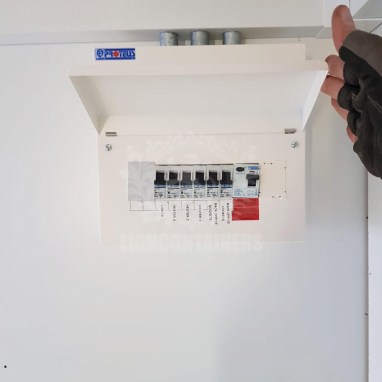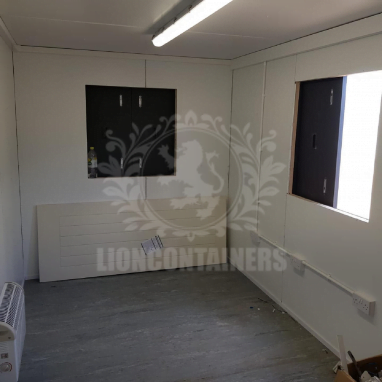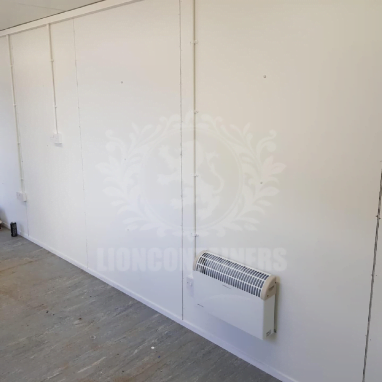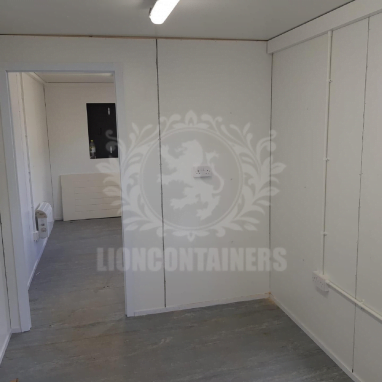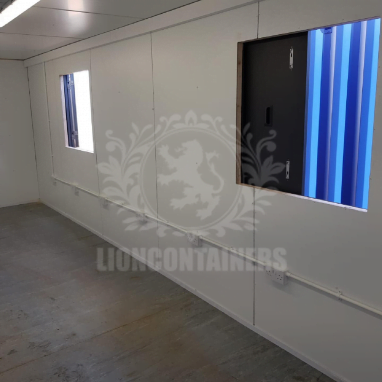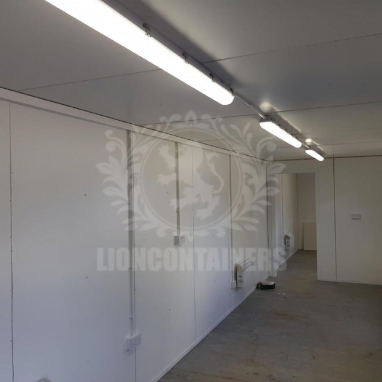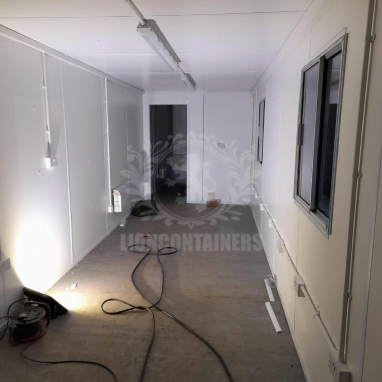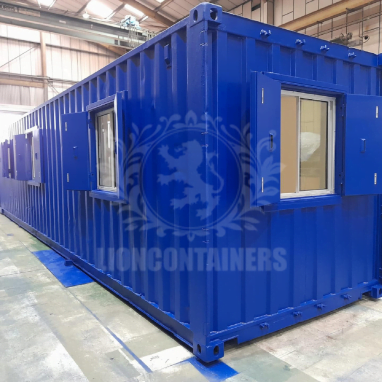 Project
Vitals
Location
Darlaston, West Midlands
Container Size (Sq Ft)
320
Ready To Start Your Container Project?
We can help bring your idea to life, just fill in our form and a member of team will be in touch.