West Bromwich
Container Case Study
The client specialise in hydraulic hose assembly equipment and are the sole UK distributor of Techmaflex swaging machines and equipment. They contacted us for two new 20ft and two new 40ft containers to be modified into a hose workshop that they were shipping to their end client in Saudi Arabia; this was part of Caterpillar projects.

This client had extensive specifications for the conversion, which Lion was happy to provide.
Both the 40ft and 20ft containers, were painted to white RAL 9010, with original decal removed and new shipping decals added. They were then complete with masked door seals and locking gear. The interior of each container was modified to include the following:

• A white, steel partition with a personnel door and 200×600 Georgian wired vision panel, supplied and installed by Lion

• Lined container walls, roof and 1no cargo door by hose racks with 9mm white MFC over 50mm cavity slab insulation to timber stud frame minus the cargo doors by the steel partition

• Lined floors – overlay existing marine ply container floor with Polysafe, in the colour grey

• A fabricated worktop over compressor (2000mm x 457mm) with a metal finish

• Cubio blue drawer sets (H800 x W650 x D650)

• Worktop frame over drawers with a sub top of 18mm ply and metal finish

• A computer table

• Black, fabricated hose reel racks

• Widespan shelving

• Front counter with lifting hatch – This to have a metal finish and a handle to help lift the hatch
The containers were also installed with the following electrics:

• Input commando sockets

• Fused distribution board, slow blow (motor rated fuses) for the machine sockets

• 380v three phase ring main and a 240v three phase ring main

• 1 socket to run a machine

• A 32 amp socket

• 1 x twin with 3 pin by the trade counter

• 5 Standard twin 3 pin sockets to run computer and charge tools etc

• 4 strip lights, one of which was emergency powered

• Light switch

• Switch air compressor

• Cabling in trunking

• Electrical install cert

• 2 Air conditioning systems at 3.5kw for the 40ft tunnels and 1 for the 20ft tunnels

• Recessed Aperture 300×300 With Gland Plate for the customer to fit their own extractor fan
To aid accurate construction of the job, we also provided a CAD drawing to the customer, which was changed to accommodate their needs and the needs of the depot. We kept in contact with the customer throughout the process to ensure that they were happy with each change.
Case Study
Summary
We delivered two 40ft and two 20ft standard ISO containers, complete with hose racks, shelving, drawer sets, air conditioning and required electrics which the client was very happy with.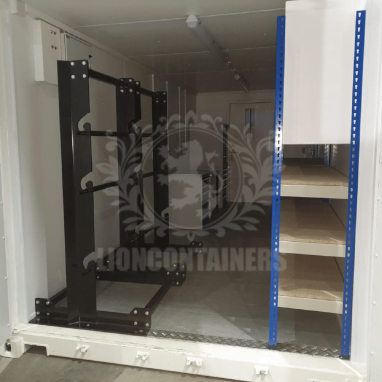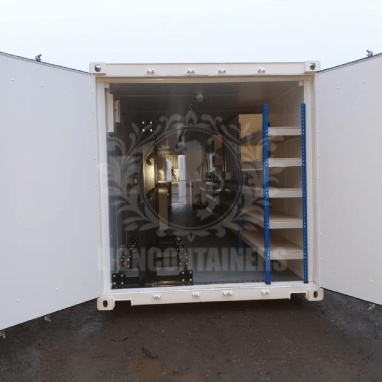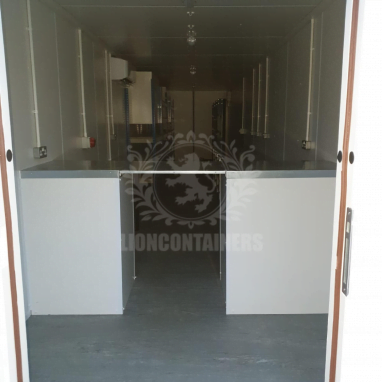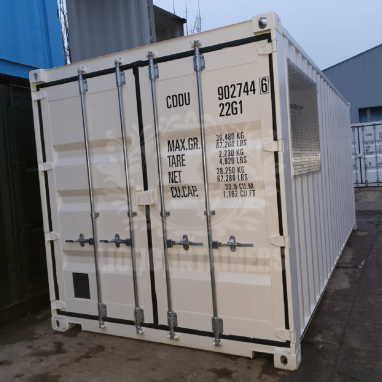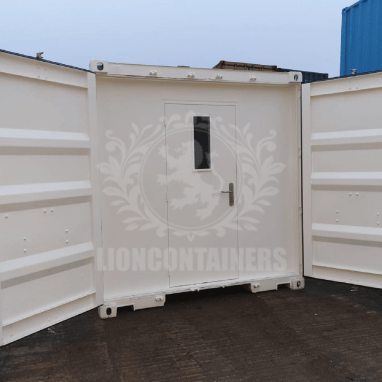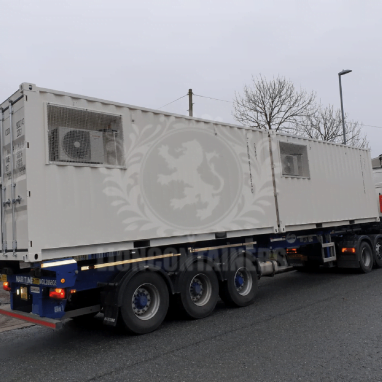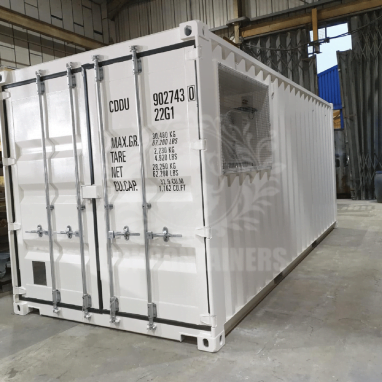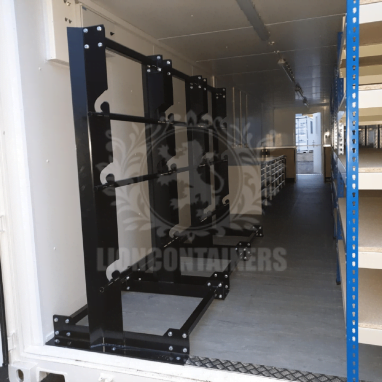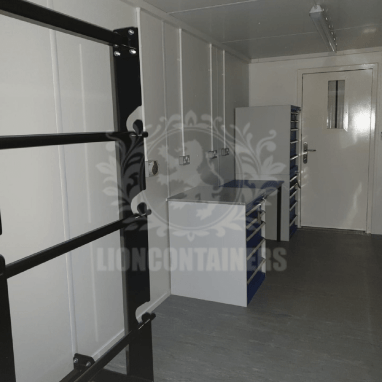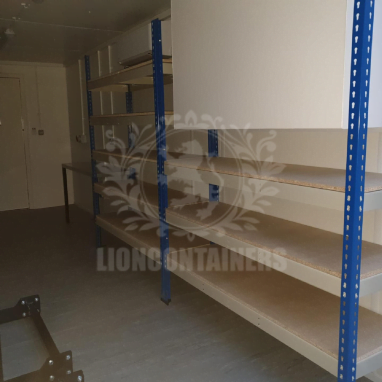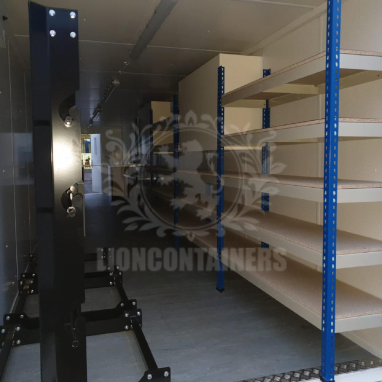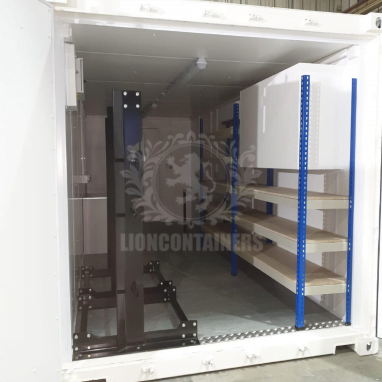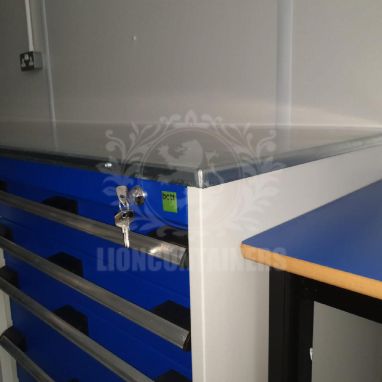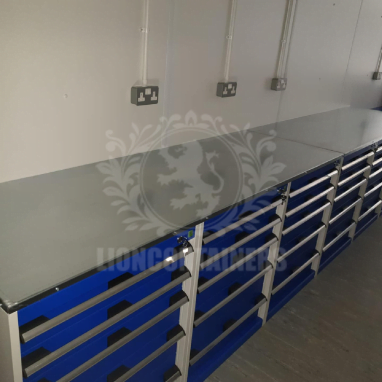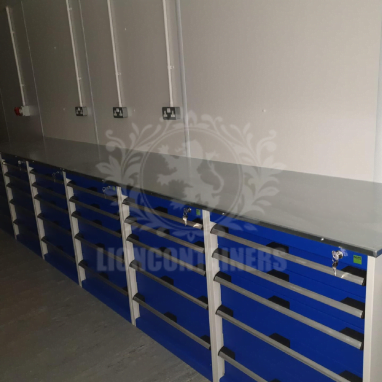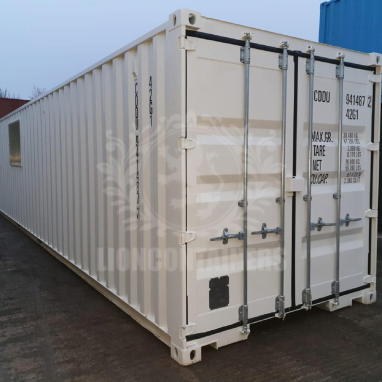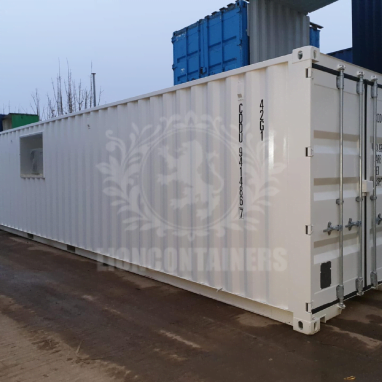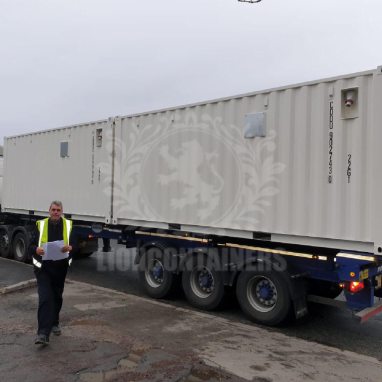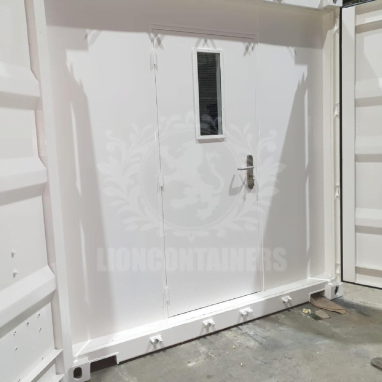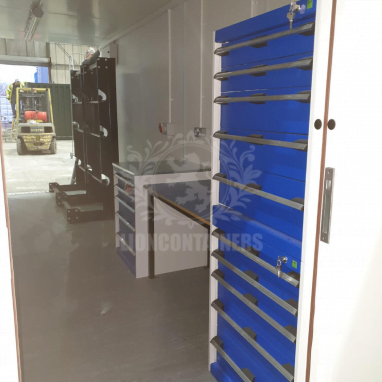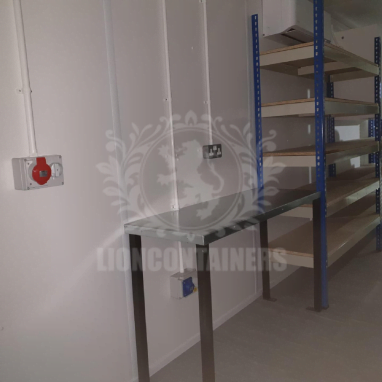 Project
Vitals
Container Size (Sq Ft)
960
Ready To Start Your Container Project?
We can help bring your idea to life, just fill in our form and a member of team will be in touch.