Central London
Container Case Study
A lifting equipment supplier contacted us to create a modified storage room with a check-in desk to monitor and store used equipment onsite.
This conversion required little modification, with the main interest of the client being sufficient racking for chain storage and a check-in area. With 11 years' experience in container conversions, our fabrication team quickly transformed this project from idea to delivery in just 4 weeks.
This storage room was made using a 20ft x 8ft new, once-shipped container, which was painted red to fit the client's requirements. Once this was done, we moved onto the interior modifications.
To start, the floors were modified with vinyl flooring and sockets and lights were fit to the unit.
We fit the container with 4 hook racks to provide ample space for chain storage without compromising the space in the container. Next, we added a 4-tier shelving rack to either side of the far end of the container to store specialised equipment.
For the check-in station, we installed a steel-framed desk with draws and added plywood worktop. Lastly, we installed a plywood slate to the wall above the desk for use as a notice board.
The client was very happy with the containers and have since placed an order for another 20ft storage room and a 10ft version.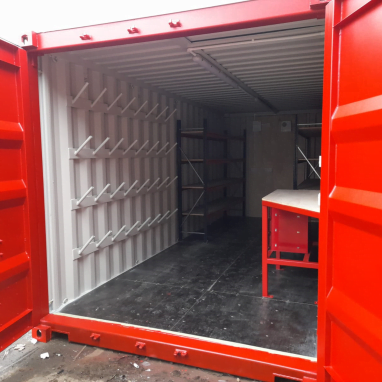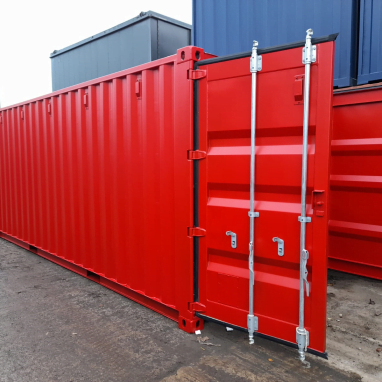 Project
Vitals
Container Size (Sq Ft)
160
Ready To Start Your Container Project?
We can help bring your idea to life, just fill in our form and a member of team will be in touch.