N/A
Container Case Study
A previous client, who provides security and facilities management services across the UK, contacted us to provide a shipping container to aid them in their move into financial services. While we were initially contacted about a single shipping container, further discussion with our sales team revealed that the client in fact required a fully modified container to act as a secure access point for their employees.
With the information given to us by our client, we decided that this project would be best completed with two, new (once shipped) 10ft containers.
The client requested that their containers to be ready-to-use as they arrived on site, which meant that we were to provide the turnstiles and all additional modifications needed, we were happy to provide this.

To start, both units were painted with RAL1018. Each container was then fitted with: a full weight 3-wing turnstile complete frame (with galvanised & powder coated frame), painted in RAL5012 Light Blue, a 200mm x 200mm gland plate and a keypad and proximity card reader (suitable for a maximum of 200 cards).
Lastly, we installed a standard crank-operated, galvanised roller shutter door (approx 2440mm x 2440mm) in the front wall elevation of each container, opposite the cargo doors.
Case Study
Summary
This project was developed to fully accommodate the requests of the customer to provide a secure, card-only access point for their employees. With the help of our expert sales team, Lion was able to discover and develop a conversion tailored to the underlying needs of the customer and bring their vision to life, for which the customer was grateful.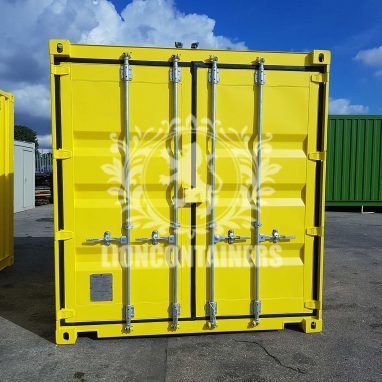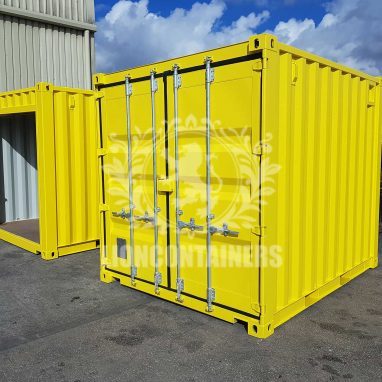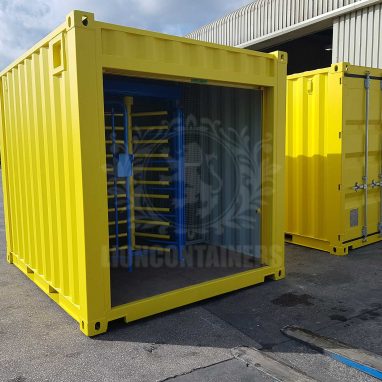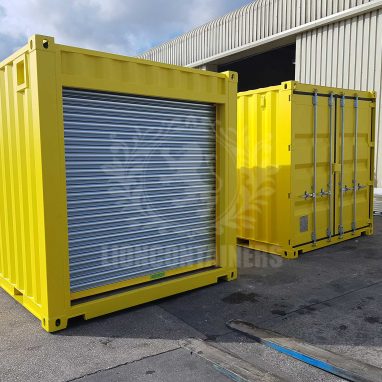 Project
Vitals
Duration (days)
24 days excluding weekends
Ready To Start Your Container Project?
We can help bring your idea to life, just fill in our form and a member of team will be in touch.