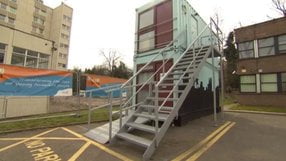 Helping to Solve the Growing Homelessness Problem with Shipping Containers
Homelessness is a huge issue in society today. House prices, financial problems and a difficult rental market are all factors contributing to the situation. On top of this, the economic effects of the Covid pandemic have sadly accentuated  the problem. Using shipping containers for homeless shelters isn't a new thing. We reported, back in 2012, that we were working with a housing trust in Brighton. Here, we planned to adapt 36 of our shipping containers to help those without a home.
Temporary Housing for Homeless in Brighton
With reference to our involvement in the Brighton project, listed below are the basic modifications in each of the containers;
plasterboard walls
a bathroom
a kitchen
The aim was to create temporary housing for people; essentially, a stop gap for people whilst they searched for a more permanent home. Here at Lion Containers, we were delighted to be see these amazing boxes being put towards such a good cause.
Homeless Shelters UK
Shipping containers have been used as homes for a long time. It is a natural and obvious jump to use them as quick, cheap and attractive shelters for homeless people. At Lion Containers we think this is a brilliant idea! Around the country, housing associations and councils have come to the same conclusion. Since we completed the Brighton scheme, there have been many others across the UK (including in Bristol, Essex, London and Birmingham). Using shipping containers to construct self-contained accommodation and get people off the streets has been proven to be very successful.
Secure Modular Pods
Shipping containers are being used more and more in the construction industry. They were designed to be secure, watertight and easily transported. All of these qualities make them ideal for converting easily into modular, stackable accommodation pods. perfect temporary homeless living. By 'upcycling' containers, this is also a very eco-friendly and cost-effective way to tackle the problem.
Container Homes for Homeless Shelters
We've seen it all here at Lion Containers! We have provided containers for multiple uses, some of which can be found on our
 case study
pages. If you would like to discuss a similar project, or maybe something brand new, please call us on
0333 600 6260!