St. Albans
Container Case Study
On-site Storage Containers
Three of the containers were to be used for the storage of water meters, tools and general equipment.
Shipping Container Office Conversion and Canteen Unit
The remaining two were to be converted into an office and a canteen. These were stacked on top of the storage containers.

40ft quality used (A Grade) containers were used for all five of the units, each being modified to the following specifications:
Shipping Container Interior Wall Panels and Insulation
We lined the container walls and cargo doors with 9mm white faced MFC. This was placed over 50mm insulation to a timber stud frame. The roof was lined in exactly the same way.
Case Study
Summary
Shipping Container Access Stairs
We arranged for 40ft crane lorries to deliver the units. Once on-site, the containers were stacked. Access was required to the top level, so we supplied and installed a used fixed staircase which led to the canteen. The office and canteen were linked together, and access to the office was via the canteen. Eight twistlocks were supplied to ensure the containers were securely and safely stacked. We also supplied our client with railway sleepers to make certain the units were sat correctly.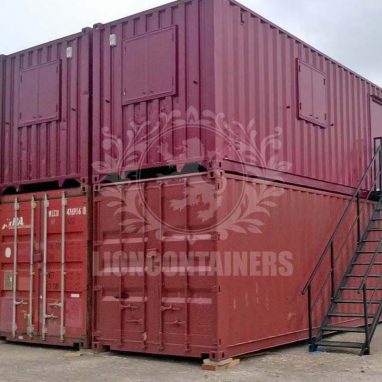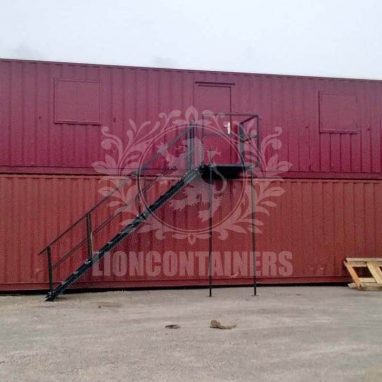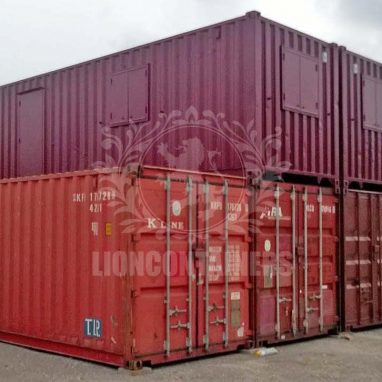 Project
Vitals
Container Size (Sq Ft)
1500
Ready To Start Your Container Project?
We can help bring your idea to life, just fill in our form and a member of team will be in touch.