Tintinhull
Container Case Study
We very quickly prepared the quotation for them, which they were happy to go ahead with. The only concern that our client had, was that the site was too small and tight for delivery. The local haulage company we were using visited the site and confirmed that although tight, they would be happy to deliver there. For this build we utilised two 20ft used containers, removed the 20ft side in each container and linked them together on site to create a 20ft x 16ft open space area. Three large windows and a French door were installed to provide a light and airy atmosphere. To soften the look of the container, and help it to blend in with its surroundings, it was cladded in tanalised vertical neat timber cladding.
The container walls and roof were lined with 9mm white faced MFC over 50mm insulation, and the existing marine ply container floor was laid with Polysafe Storm Blue 2.5mm non-slip vinyl. The electrical package included four 5′ twin anti-corrosive light fittings and switches, eight 13 amp twin sockets, two heaters with single phase external commando sockets and an internal RCD distribution board.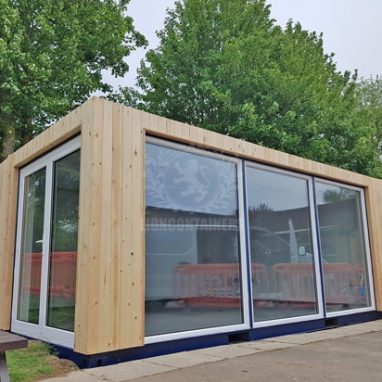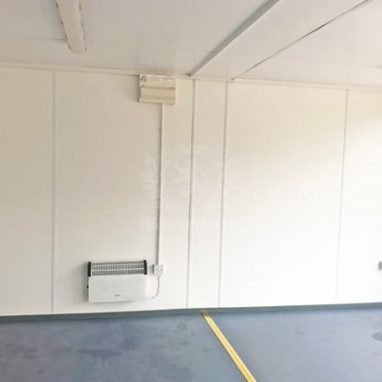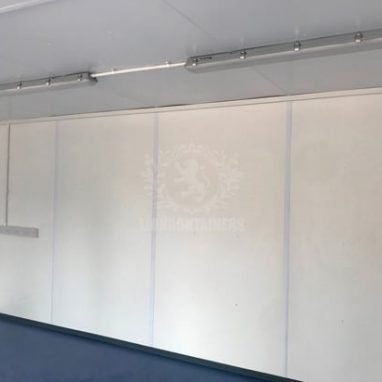 Case Study
Summary
Because our client is a school, we had to ensure delivery would be made after 4pm. This was no issue with our haulier, and the siting of the two containers on the playground went smoothly. The day after delivery we visited the site to link and fit out the containers, and had a walk around with our client to make sure they were happy, which we are very pleased to say they were.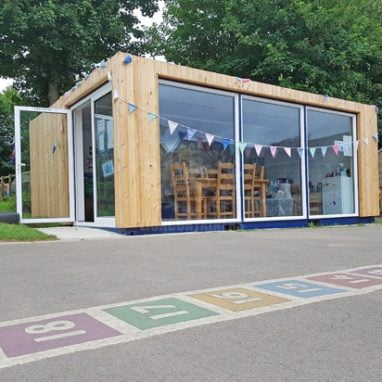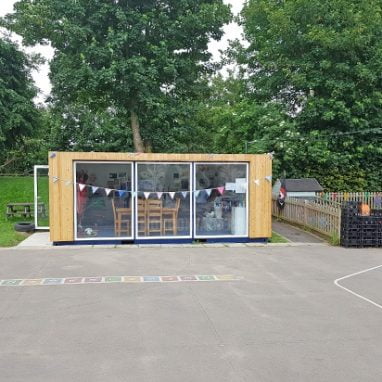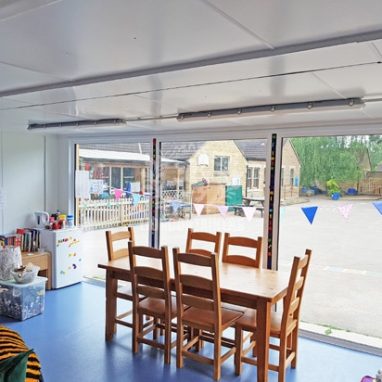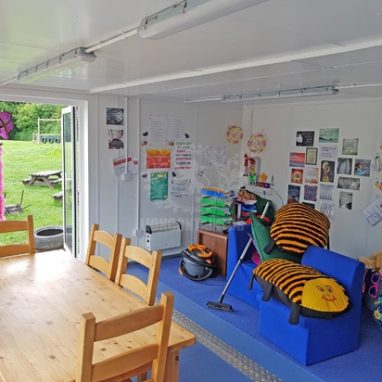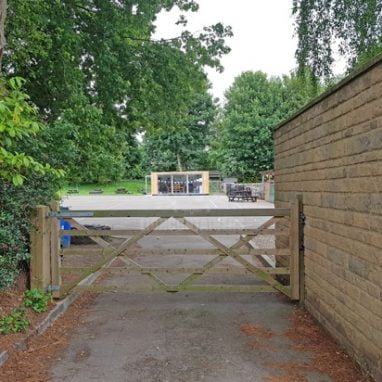 Project
Vitals
Container Size (Sq Ft)
300
Ready To Start Your Container Project?
We can help bring your idea to life, just fill in our form and a member of team will be in touch.