Portsmouth
Container Case Study
Each container needed to be 20ft x 8ft x 40ft x 8ft for shipping purposes, and the following was required:

Meeting room

Toilet

Kitchenette

Office rooms x 5
Lion Containers Ltd quickly found an extremely cost effective method of providing these units. We sold the customer new flat pack offices, 4 of which were put together to create 20ft x 8ft units with corner castings. These could then be shipped on a cargo vessel, once this unit arrived in St. Lucia, full assembly instructions were provided to build the office units.
Case Study
Summary
We also provided the customer with a standard 20ft shipping container, desks and office chairs. The container was then filled by us with these items and the CSC plate re-tested. It was then shipped with the flat pack office units to St. Lucia.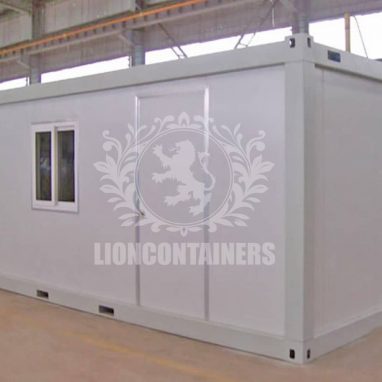 Project
Vitals
Container Size (Sq Ft)
150
Ready To Start Your Container Project?
We can help bring your idea to life, just fill in our form and a member of team will be in touch.