Edge Hill
Container Case Study
The University's Performing Arts Department is one of the fastest developing in the country. It was established in 2003, building upon the success of the long-standing Drama Department. Such was its success that over £7M was invested in a study centre and theatre. The department utilise very large props in their shows, and these were previously being stored along corridors of the quieter parts of the University; hardly ideal, being a health and safety issue. Therefore, as part of their redevelopment phase, storage was high on their agenda.
At the back of the University, and directly in front of one of the accommodation halls is an in-and-out driveway. The only issue with this being the proposed storage area was its nature. Quite literally, as it was a conservation area with many overhanging trees. We could not cut any trees back without impossibly special permission, so lifting was going to be tricky. However, our haulier was confident that the task could be done. Initially, the University required two 40ft containers to be linked together, but as it turned out, the entrance and exit of the driveway was very tight, and our delivery vehicle would not have managed it. During our project meetings, we explained that by changing the criteria to four 20ft containers, they would achieve the same storage space whilst gaining manoeuvrability. It would be in a slightly different layout, but most importantly, our vehicle would have no issues. The University were happy with this suggestion, and we got to work on the specifics.
Six of the 20ft walls were removed for the containers to be linked, and for the larger space to be created. The remaining walls, roof and cargo door ends were lined with 9mm plywood, and 50mm insulation was fitted. Each unit had a 5′ single anti-corrosive light fitting, and two of them had 2KW wall mounted convector heaters with RCD distribution boards. To allow some natural light into the area, two weatherproof double-glazed windows were installed. Access to the area was by way of a double personnel door set. Being in a conservation area, the containers had to preferably blend in with their surroundings. Our design team noticed that the University use anthracite grey and light brown timber throughout their buildings, so this was the theme decided upon for the units. They were externally clad and the windows, doors and all exposed steel were painted grey. An eco-friendly composite cladding was used due to it being more lightweight, easier to fix, and not needing any maintenance.
Case Study
Summary
On the day of delivery, our fabrications team attended the site to join our containers together and ensure they were weatherproof. Our units attracted a lot of attention on the day, with many commenting on how in-keeping and sturdy they looked. The Performing Arts Department, our haulier, and Lion were very happy with the final result, and with the 50-working day turnaround. The world's a stage, and the containers do their bit!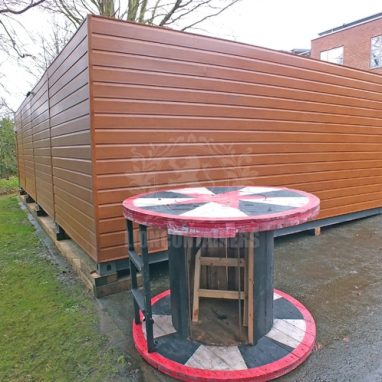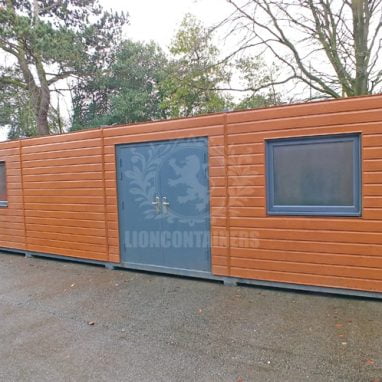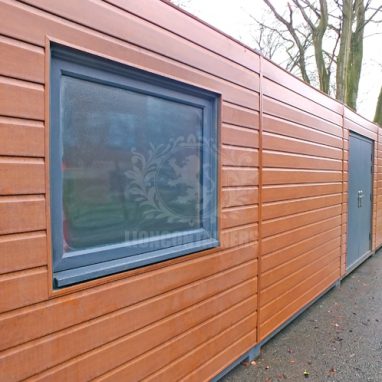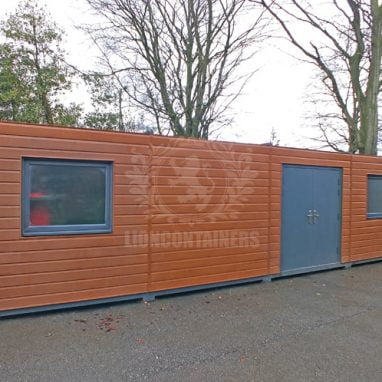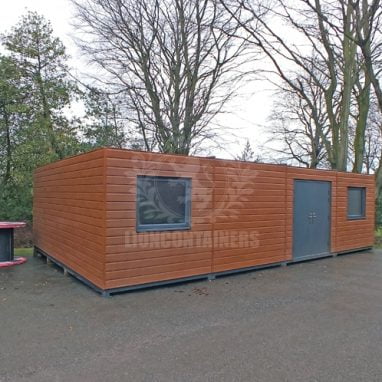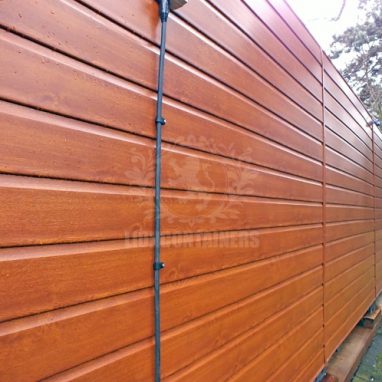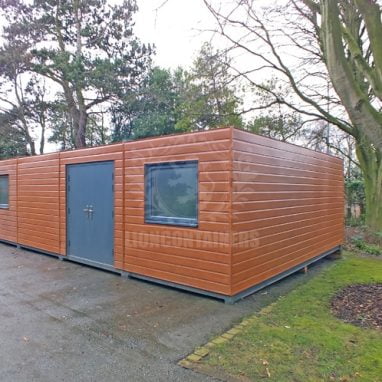 Project
Vitals
Container Size (Sq Ft)
225
Ready To Start Your Container Project?
We can help bring your idea to life, just fill in our form and a member of team will be in touch.