Aberdeen
Container Case Study
Earlier this year, we received a request for a bespoke 30ft side-opening container from our client Altus Intervention Limited, world-renown specialists in all things piping-related, who intended to utilise the custom container as an effective means of tube-and-pipe storage. Naturally, we piped up and offered them the solution they were searching for!
We started by cutting down a 40ft new high cube container, creating a 30ft new high cube unit from its bulk. Following this, it was an easy process to remove the 30ft side to install a pair of bespoke concertina double doors, which formed a 30ft side-opening container with full, unobstructed access through the side. The doors themselves were lined with 9mm MFC. We then lined the internal walls and roof with the same MFC over 50mm wool insulation to a timber stud frame.
Case Study
Summary
In terms of electrics, our client required the inclusion of 2 x 5ft strip lights with accompanying switch, a 2KW downflow heater, 2 x 13AMP twin sockets with an RCD and external isolator. Bespoke finger racking was installed across the 30ft length of the container, on the opposite face to the container doors. The external body was finished off by colour grading to a cool RAL5005. Once complete, the container was transported to Portlethen, to be united with yet another satisfied client well within the timeframe!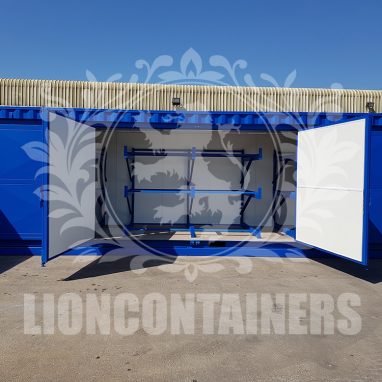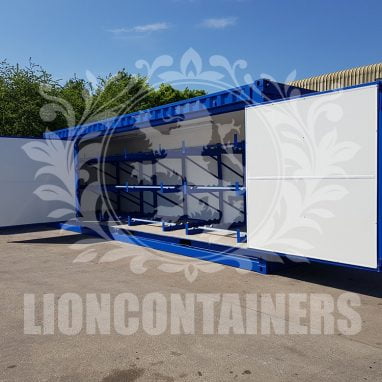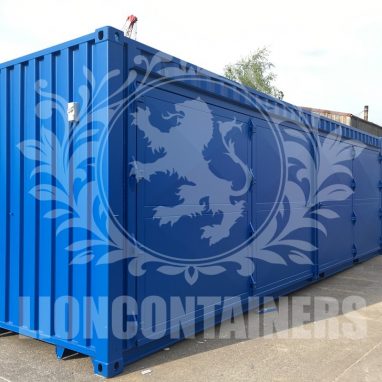 Project
Vitals
Container Size (Sq Ft)
240ft
Ready To Start Your Container Project?
We can help bring your idea to life, just fill in our form and a member of team will be in touch.