Caerphilly
Container Case Study
They are an existing client of ours, and they contacted us regarding two 40ft used containers along with a container canopy. They required the canopy, so that vehicles carrying their electrical equipment could drive up to the containers and offload under shelter, in case of bad weather.
The canopy was installed on the containers via rails, and created a 28ft roof between the two containers. Originally our client was going to carry out the canopy insulation work themselves, so we sent them instructions and manuals regarding this. After some consideration, they decided that it would be a lot easier and quicker for us to do this. We had the insulation work booked in later in the month, but after being informed of a very tight deadline, we moved this considerably and installed it within the same week of delivery. Obviously, our client was very happy with this.
Case Study
Summary
The deadline originally given to us was 2-4 weeks and we kept to this no problem, even with one of our supplier's machines breaking down. We kept our client fully informed every step of the way, and still met this deadline.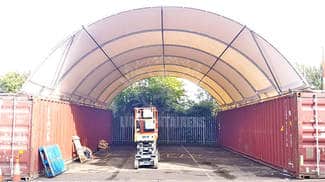 Ready To Start Your Container Project?
We can help bring your idea to life, just fill in our form and a member of team will be in touch.