Northampton
Container Case Study
Our client already had a 40ft high cube container on site and required not only more storage, but a large outside area where they could work whatever the weather and maximise their storage space. We discussed our innovative container canopy product with our client and they decided that this would be the perfect solution for their needs.
Our container canopy creates a sheltered / shaded space between two standard 20ft or 40ft shipping containers. They are portable, multi- purpose, easy to install and quick to dismantle. Using galvanised 60mm steel and heavy duty fire retardant PVC, the canopy is designed to withstand the elements.
In order to create this large working and storage area, our client purchased two new 40ft high cube containers from Lion Containers Ltd. This enabled two canopies to be attached across the three containers, thus creating two large covered outside areas.
Case Study
Summary
The containers were delivered and sited with the utmost precision, as they needed to be square to each other and within a distance of 4.5-8.6 metres apart for the canopies to fit securely. Our client is very happy with their extra storage and brand new work areas.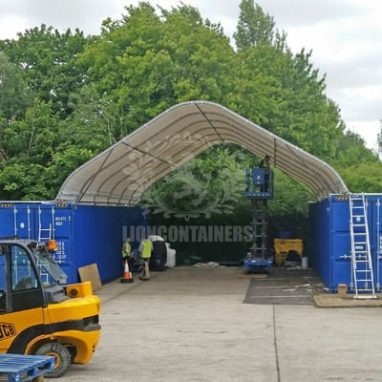 Ready To Start Your Container Project?
We can help bring your idea to life, just fill in our form and a member of team will be in touch.