Somerset
Container Case Study
A primary school approached us with the brief of creating a classroom out of two 20ft containers, connected together to make one unit. This extra-large unit would include large windows for the sake of emphasising natural light, and would have to blend in with its surroundings as an eco-friendly space. Ever up for a challenge, we swatted up at school and came back with a plan!
To meet these requirements, we first started off with the client's concept drawings presented to us during several project meetings. From here, we were able to discuss many basic variables, such as the lining material and flooring options. Initially, they required a wood effect lining, but due to the container's intended usage, we advised a melamine finish, which can be wiped clean if spoiled. To further ease the task of cleaning the container, we advised on having a 2.5mm flooring lip so that the walls would not be damaged in the process. We also suggested an external timber baton frame with a vertical, tanalised, treated timber cladding, which provided a more naturalistic feel. Primarily, the specification was for a single personnel door with a large window, but following our discussions this was changed to a bi-folding door, and a French door, respectively.
Two quality used A grade containers were used for this build, and the cargo doors were removed. To connect the two together, we installed a steel box section around the aperture after reinforcing it. Regarding the doors, a 6m x 2m bi-folding door with an aluminium frame was chosen, along with a 6m x 2m French door. Prior to arrival on site, the openings, apertures, and steel supports were fabricated to allow easy fitting by a specialist contractor. The existing marine ply floor was overlaid with Polysafe 2.5mm non-slip vinyl floor in blue, and we internally lined the container walls and roof with 9mm white-faced MFC over 50mm insulation to the aforementioned timber stud frame. The electrical package to finish it all off consisted of 4 x 5′ twin anti-corrosive light fittings and switches, 8 x 13A twin sockets with a single-phase external commando socket and an internal RCD distribution board.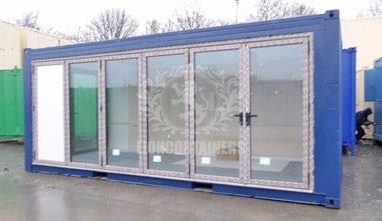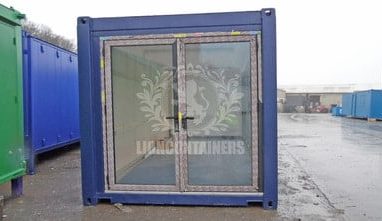 Case Study
Summary
With a conversion like this at the ready, completed in no more than 35 working days, no wonder those kids are so eager to get to school in the mornings!!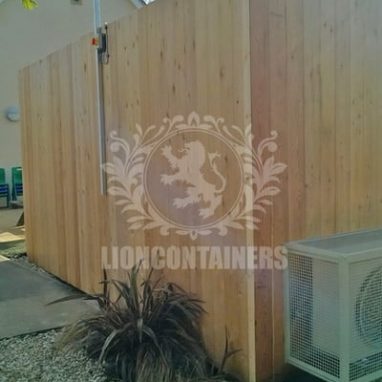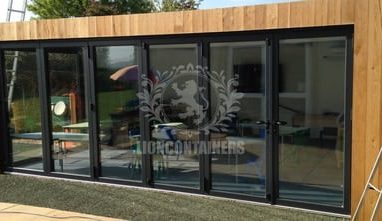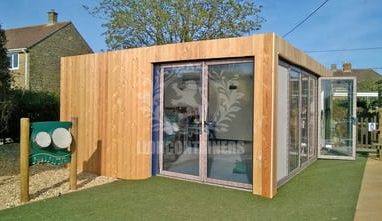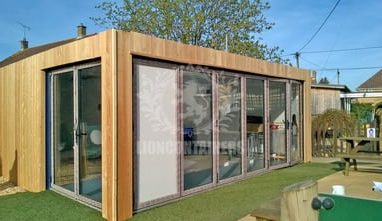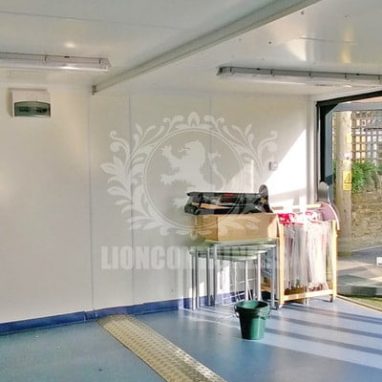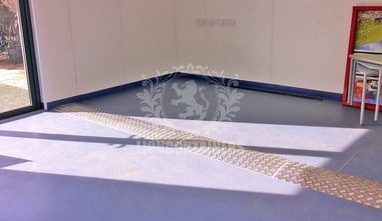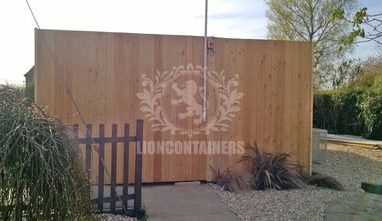 Project
Vitals
Container Size (Sq Ft)
150
Ready To Start Your Container Project?
We can help bring your idea to life, just fill in our form and a member of team will be in touch.