Welshpool
Container Case Study
The unit was required to serve ice cream, tea, coffee and snacks from. Previously they were using a converted trailer and had to take it onto site every day which wasn't ideal, so they required something secure that could be left on site.
For this build, we cut down a 20ft quality used A grade container to create a 17ft x 8ft x 8ft 6′ unit. A serving hatch was required, so we created a 10ft wide aperture in one of the 17ft sides and installed a 3000mm motorised, galvanised roller shutter. We supplied, assembled and fitted a steel box section frame measuring 3000mm x 50mm, with gas strut hydraulics to the top rail above the roller shutter. This was to be used for the placement of their sign, the hydraulics were in place to fold the sign down, therefore protecting it when in transit.
The open end of the container was secured with a corrugated steel panel and a blank end panel was fitted. Within this panel, a standard insulated weatherproof personnel door was installed, measuring 910mm (W) x 2065mm (H). The door had a 10 point locking system with a 5 pin anti-drill Euro profile cylinder, with full door furniture. For extra security we also supplied and fitted a digital code locking system. A tie back was included to prevent the door from slamming and a rain run-off strip fitted above the door.
The container walls and roof were lined with 9mm ply over 50mm insulation, over a timber stud frame. Two recessed box sections with C Form 32amp socket connections were fitted. Two apertures were created and surrounded with a steel box section frame, this was for the installation of a 300mm x 300mm 45 degree louvred vent to prevent water ingress.
To fit in with the surrounding environment and to satisfy regulations set by their local council, cladding was required externally. Loglap tongue and groove panels were applied to the container, the corrugated steel pitched roof, guttering and pipe housing. The exposed steel areas were painted with self-priming specialised container paint and the roller shutter was powder coated black.
Case Study
Summary
The unit was delivered via 20ft lorry, a spreader bar had to be used so as to not damage the roof and walls when being lifted. Our client was extremely happy with the final build and the unit is now being used to serve members of the public using the park.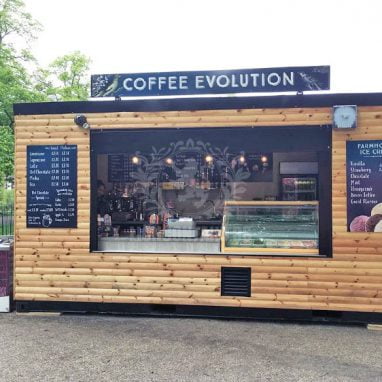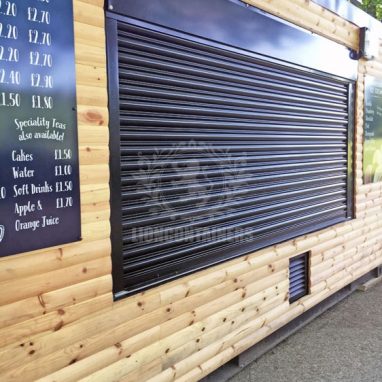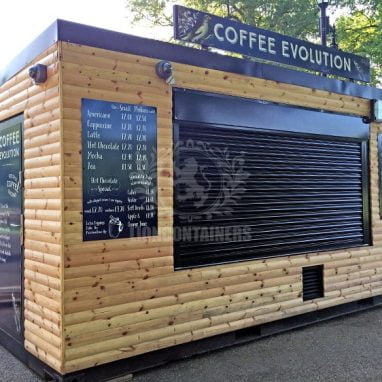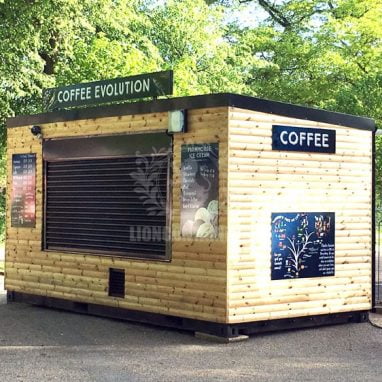 Project
Vitals
Container Size (Sq Ft)
150
Ready To Start Your Container Project?
We can help bring your idea to life, just fill in our form and a member of team will be in touch.