London
Container Case Study
Every now and then, a project comes along with a very specific purpose in mind, requiring particular specifications for its usage. Back in March 2015, we were approached by a company who ran contracts with the oil and gas industry, specialising in advanced field joint-coating systems. This time, they were on the market for several small chemical stores. The units in mind were going to be utilised within oftentimes harsh and varied environments, and as such, they needed to be hardy, high-quality containers, durable enough to stand the test of time and the elements.
To kick-start the conversion plans, our client provided us with a rough blueprint for the prospective layout that they were hoping to achieve. These plans detailed a modification to the original container floor that would incorporate a bund with removable mesh panels. The internal walls of the unit were also to be lined. Built into the side of the container, they required a fitted window with secure shutters, a sliding hatch, and a purpose-built lifting davit. This container was specifically going to be used as a paint processing facility, so we expected it to house large drums of industrial-grade paint. During use, the paint was to be transferred from the drums via pipes through the aforementioned hatch, supported by the external lifting davit. As this process takes place, the window would be used for staff observations and monitoring to ensure that the operation was running smoothly.
Case Study
Summary
Whilst this wasn't our usual paint-by-numbers commission, we were able to move quickly from payment to installation within a miniscule 20 working days. After the unit's completion in our depot, our client was also invited to inspect the result in person prior to delivery. During this visit, a few more electrical options were added to the conversion – very easy additions – and we discussed the build for the next set of units. Now that our client had experienced our work first-hand, the unit specifications for the next instalments had changed slightly, meaning that all of the external fittings were to be recessed, and shipping decals reapplied, allowing them to be shipped around the world.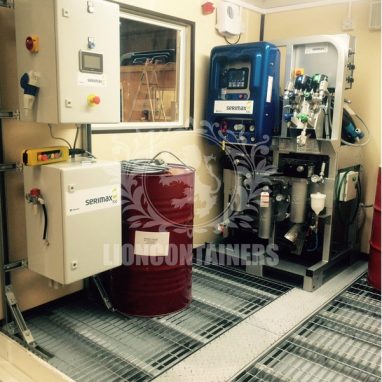 Project
Vitals
Container Size (Sq Ft)
300
Ready To Start Your Container Project?
We can help bring your idea to life, just fill in our form and a member of team will be in touch.