Bristol
Container Case Study
We were contacted as they were eager to have some containerised buildings alongside the shops and caf's that were in the Bearpit already. Three years after they initially contacted us, they were finally able to go forward with an idea they had for a containerised commercial kitchen. Our fabrications team worked with The Bearpit Improvement Group to design the layout and specification.?
A green 20ft new (once shipped) high cube container was utilised for this build. High cubes provide an extra 1ft in height, which would prove invaluable for kitchen storage purposes. We recommended 50mm Hemsec food safe composite panels with PIR insulation Core for the container walls, roof and cargo door lining. This was very important for creating a food safe environment. The existing marine ply container floor was overlaid with Polysafe 2.5mm non-slip vinyl floor.
An aperture and box frame was installed to make way for a standard insulated, weatherproof personnel door. This had a 10 point locking system with a 5 pin anti-drill Euro profile cylinder and full door furniture. Another aperture and box frame was installed for a standard insulated, weatherproof single glazed sliding window with anti-vandal shutters. This included finger bolts and stainless steel anti-knockout hinges. Tie backs were included to prevent the door and window from slamming and rain run-off strips were fitted above the door and window. The paintwork around these apertures were blown in with self-priming specialised container paint.
Two 5′ single anti-corrosive light fittings and switches, twenty 13 amp twin sockets, and a 2KW wall mounted convector heater with appropriate electrical protection and external isolator were all installed. Due to the nature of the container's use, an aperture and frame was created to install a 12″ extraction fan, this was situated at a high level within the container. An electrical certificate was supplied.?
Case Study
Summary
T?he Bearpit is an area of land in the centre of a large busy roundabout in Bristol. The Bearpit itself is several meters lower than the road level over a small barrier. To deliver the container, we liaised with the local council to organise a road closure on part of the roundabout, so that the hi-ab driver could offload the container into the Bearpit. Once offloaded into the Bearpit, the container was positioned with the use of a forklift truck. Our client was very happy with the container, and the successfully delivery.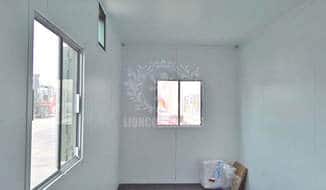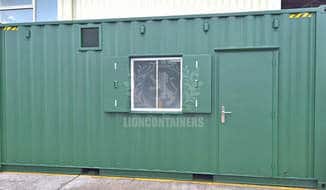 Project
Vitals
Container Size (Sq Ft)
150
Ready To Start Your Container Project?
We can help bring your idea to life, just fill in our form and a member of team will be in touch.