Folkestone
Container Case Study
We were advised by our client that the offices should create a bright and funky space for their team and themselves to work from. Ideally, the offices should be created using 2 x ?40ft? new (once shipped) standard height containers and 1 x 20ft new (once shipped) standard height container. They required them to be positioned into a 'U' shape when inside the warehouse, as they wanted a more communal feel. Our client is also planning to install an indoor garden which will include fake grass, a water feature and even a BBQ.
One of the most important aspects of the build would be the glazing, as these units were going inside a warehouse it was really important to allow as much light ingress as possible. Our client had seen a couple of our past projects such as the Boombox and Recording Studio which provided some inspiration for them. Seeing that we had different paint colour options (partially inspired by our Pop Up Shop) also sparked some ideas! It was decided that the containers would be yellow, pink and blue to match their company logo. We also agreed that the porthole windows used on the Boombox would look fantastic with dark frames against the bright colours. Large 6 meter bi-folding doors were installed into the 40ft containers and 4 meter bi-folding doors into the 20ft container, again they required the dark aluminium frames.
Internally the containers were prepared for plastering and wallpapering on site by the client's team. The wallpaper will be art themed and consist of oversized paint brushes, pencils and our client's branding! Lion Containers Ltd fitted the containers with compressed glass/wool insulation, plasterboard and first fix electrics. This enabled the work to continue as soon as the containers reached site. The containers were modified in our specialist work shop in Warrington and delivered to Folkestone early March 2015. Two haulage teams were required on site for the delivery which involved seven men, one hi-ab, container skates, a lot of muscle and several cups of tea!
Case Study
Summary
Due to the nature of the containers and their conversion work, we had to analyse our hauliers to see which one would have the appropriate equipment needed to carry out the delivery. After a lot of consideration, we decided on the two hauliers who we believed would be best suited to carry out the job. Because of the sheer weight of the container and the glass installed, the containers had to be skated into the warehouse. One haulier provided the forklift (which could lift up to 10 tonne) and the skates. The other haulier provided the hi-ab transport which consisted of a 72tonne meter artic called Gladiator, an 80tonne meter rigid called Kratos, and a 45 tonne artic flatbed called Taranis. Skates are like roller blades for the container, and are used for skating containers into buildings, or below height restrictions. The driver was required to ensure that the glass doors were fully open when lifting the containers. He was also required to stay in a lorry park overnight, this was to ensure that the containers could be loaded early morning to meet with the other haulier on time. By collaborating with our expert hauliers, we were able to successfully carry out the task in hand. Lucy from our sales department spent the day overseeing the delivery on site, and she even provided a live transport feed from Facebook and Twitter. All three containers were skated into place just in time for lunch!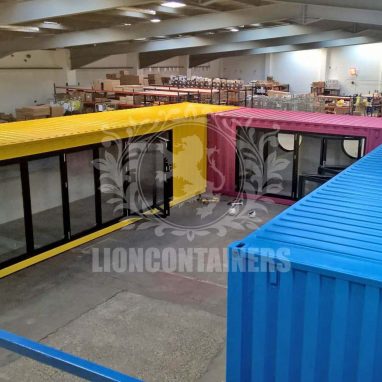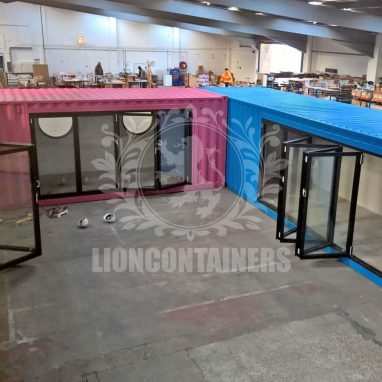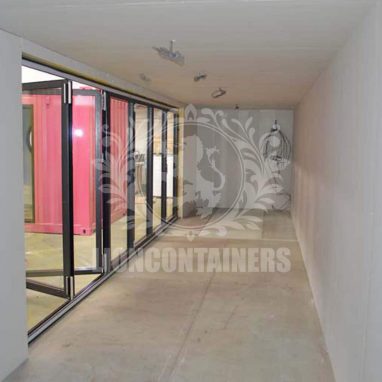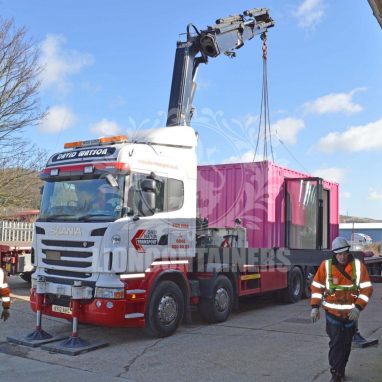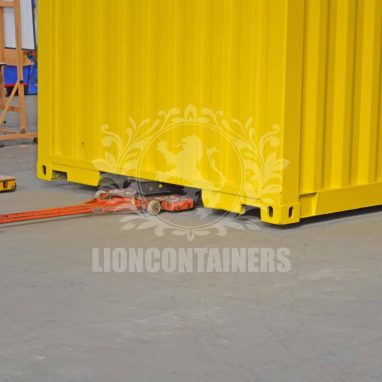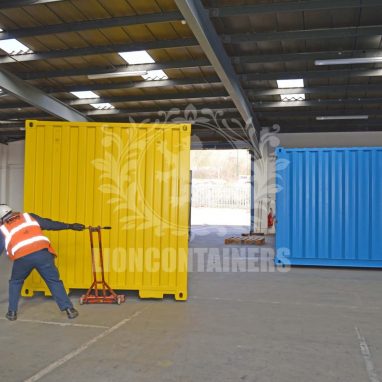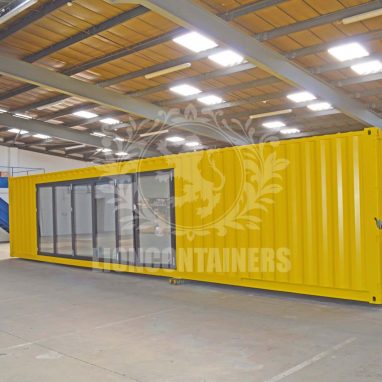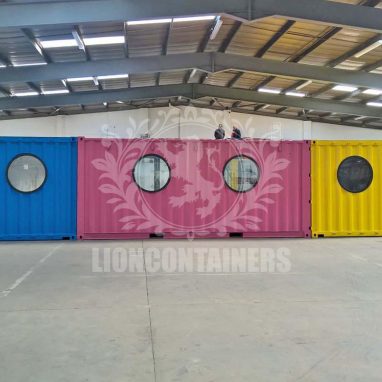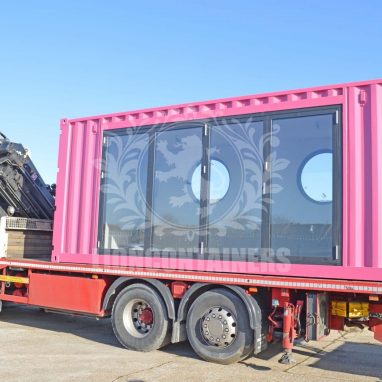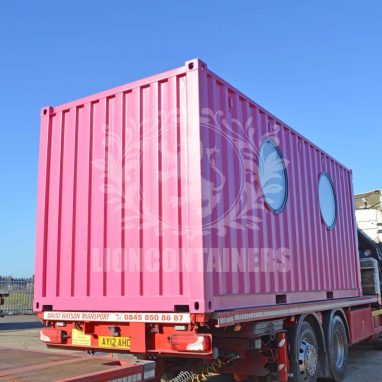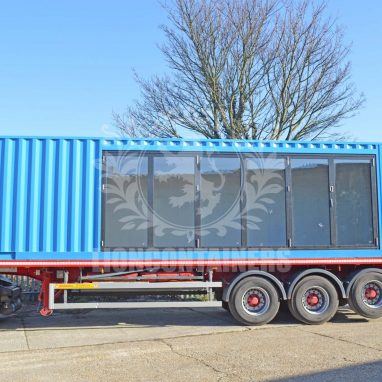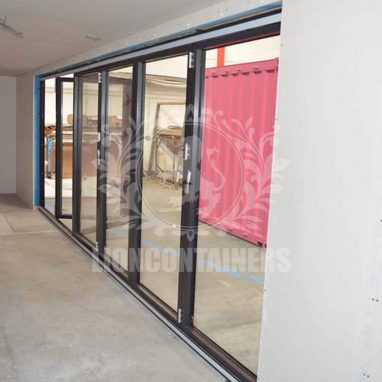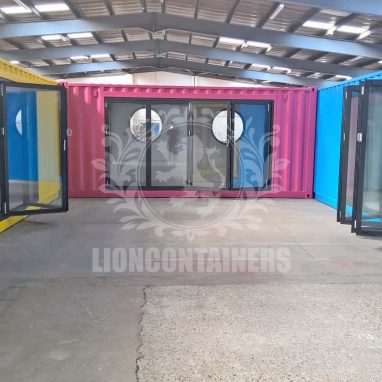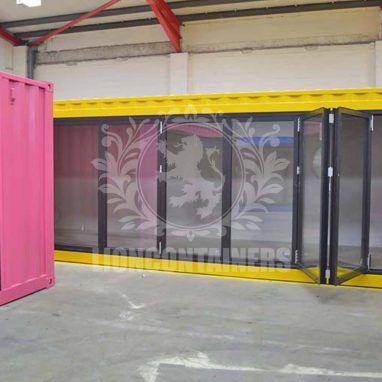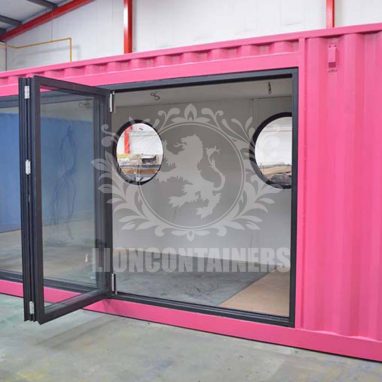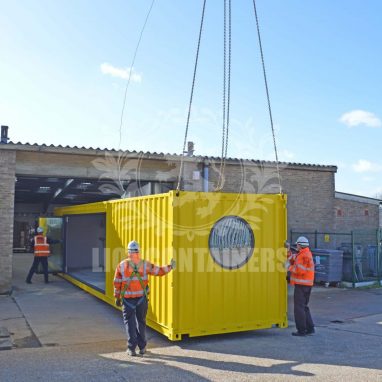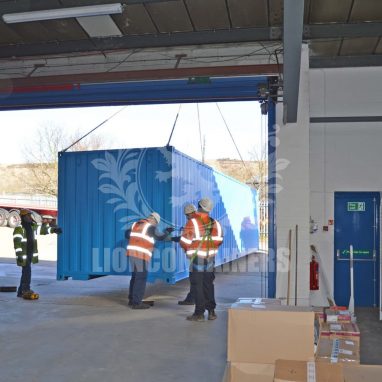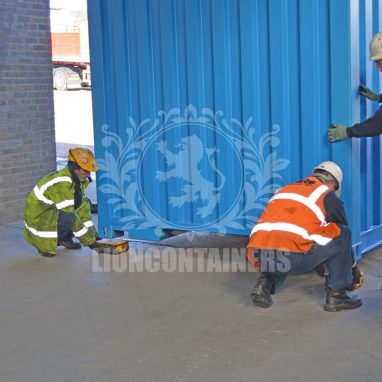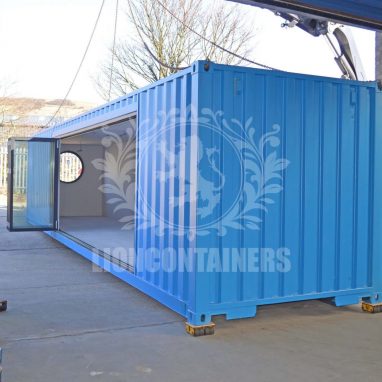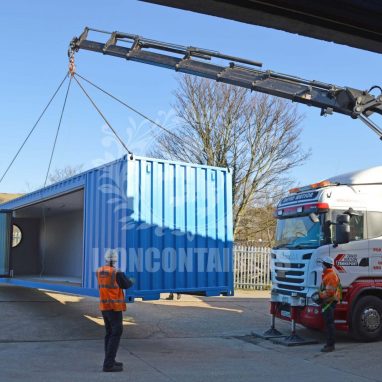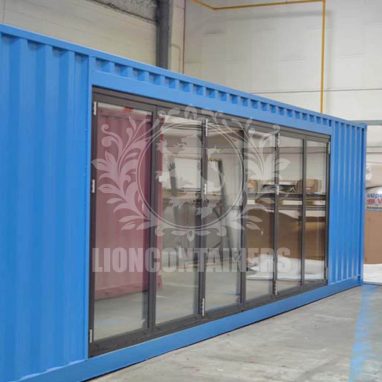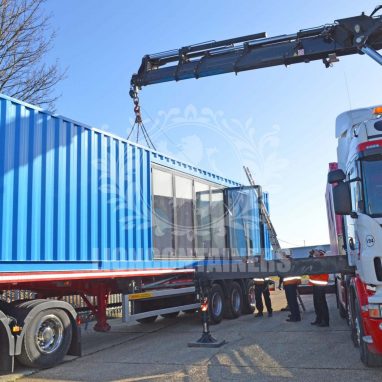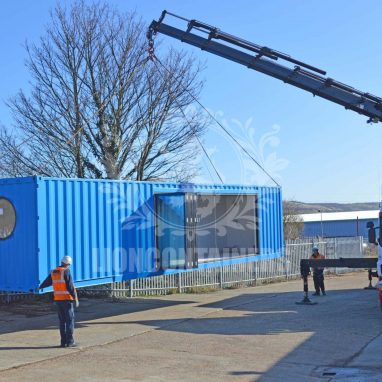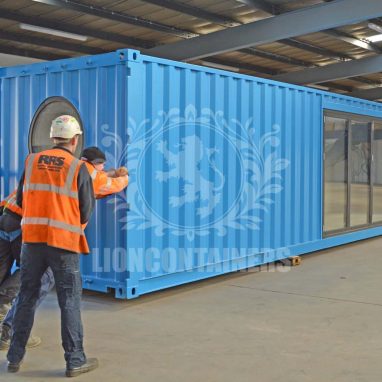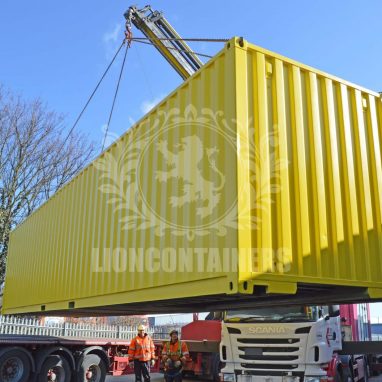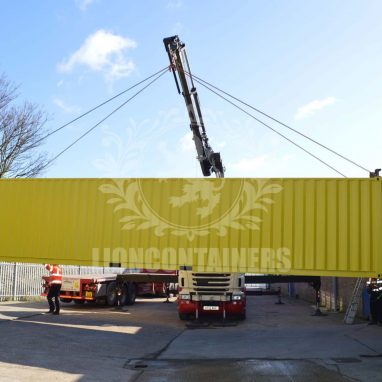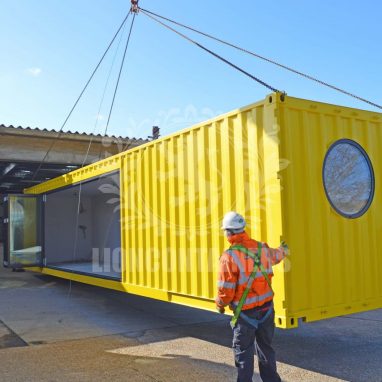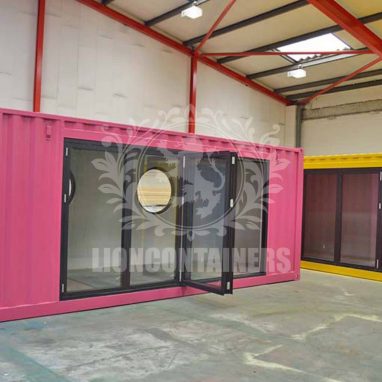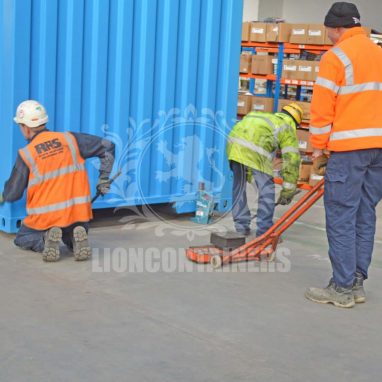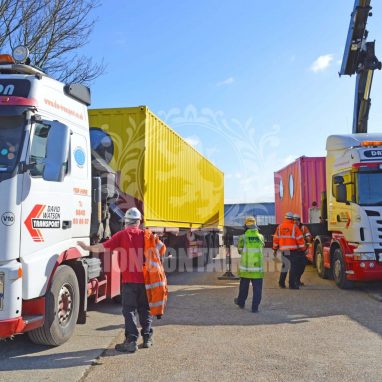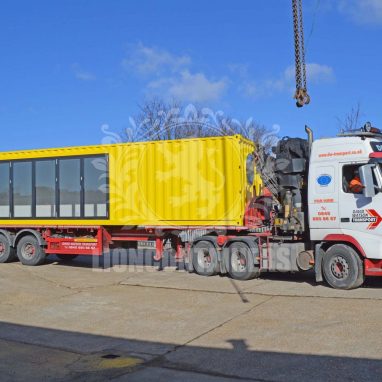 Project
Vitals
Container Size (Sq Ft)
750
Ready To Start Your Container Project?
We can help bring your idea to life, just fill in our form and a member of team will be in touch.