Bristol
Container Case Study
A longstanding University client of ours contacted us to express that they required a container conversion with a fast lead time, to be utilised as an institutional travel hub. Their request reflected the University's strong environmental and recycling policies, which immediately gave us the direction we needed to pull out our best used A-grade container. This hub would be divided into 3 separate areas, using a 40ft container for the body, lined with 18mm white-faced MFC over 50mm insulation. This would subsequently be laid over an internal timber stud frame, accompanied by an external timber baton frame. The whole container was then partially clad in 150mm x 25mm tanalised timber cladding (rough sawn). A high-security lockbox and insurance-rated padlock were installed for additional security, along with external floodlights and a 6m electrical half cassette awning to be used as a shelter.
Our client wanted the container frame to be partially visible in Area 1, as they felt that this key design feature would help to communicate their eco policies in how such materials can be recycled. As such, we prepared, masked, and painted this section using gun metal grey self-priming specialised container paint, the colour having been specifically requested by our client. This part of the container was to be used for bicycle storage. We fitted a hardwood internal personnel door, with full door furnishings including a latch, 5-lever lock, edging, and door framing. Finally, a single 9mm white-faced MFC stud partition was supplied and installed, fully insulated with 50mm. A 5ft non-corrosive single light with accompanying switch was likewise included.
With regards to Area 2, our client mentioned that they wanted to keep the possibility open of being able to install a wall-mounted TV to the central wall due to it serving as a customer service area, which was taken into consideration during the conversion. After discussing our options with the client, it was agreed that the section would require a full electrical fit-out, with 2 x 5' batten light fittings and switch, 2 x 13A twin sockets, a data port, 2KW wall-mounted convector heater with a single-phase external commando socket, and an internal RCD distribution board. The area was carpeted in blue, hard-wearing, short-pile carpet. The partition utilised in Area 1 was repeated here, as well as the hardwood internal personnel door with all the trimmings. A 1700mm x 2200mm aperture was created, and installed along with a steel box section surround. The client also requested an aluminium-fixed window of 1600mm x 2100mm with a standard insulated, weatherproof, double-glazed sliding window of 945mm x 945mm. To finish off this section, we installed a 3-panel aluminium bi-folding sliding door, measuring in at 2743mm x 2100mm, repainted in gun metal grey.
Section 3 was to end up as an administrative office. All the same security measures, door fittings, and partition elements were repeated for this final space. This side likewise sported a weatherproof double-glazed sliding window, of the same specifications as those in Section 2. The electrical fittings were mirrored here too in order to maximise utility. A second single-phase external commando socket was installed in the left-hand wall of the container within Section 3. This was to be used for the charging of any mobility scooters brought along by customers. An external floodlight switch just about finished off the entire container.
Case Study
Summary
Despite the detail-heavy nature of this installation and conversion, we met the University's request with ease, and it took a tidy 60 days total from initial enquiry to delivery. The client was so happy with the result that they even Tweeted about it using their official University account!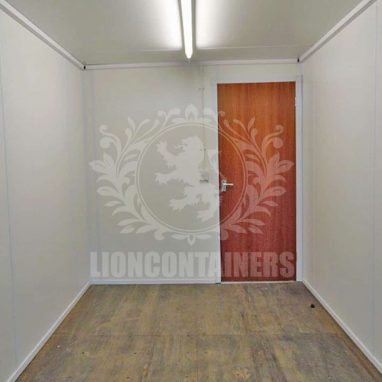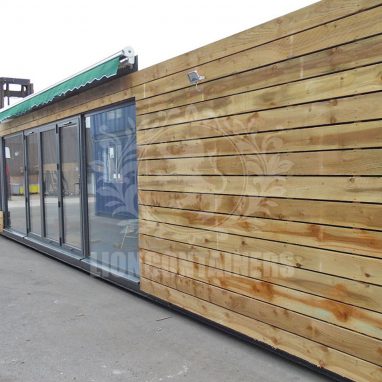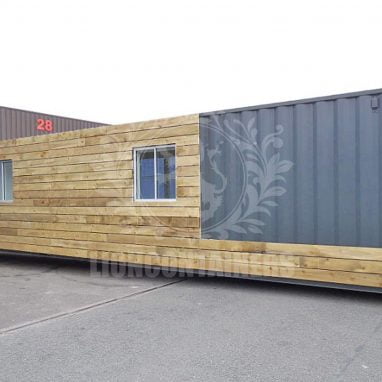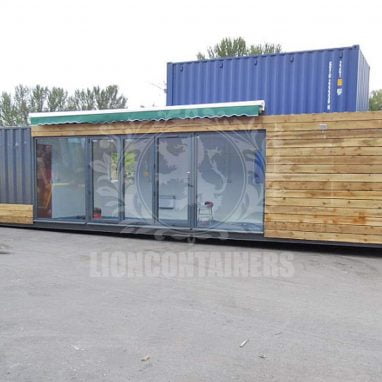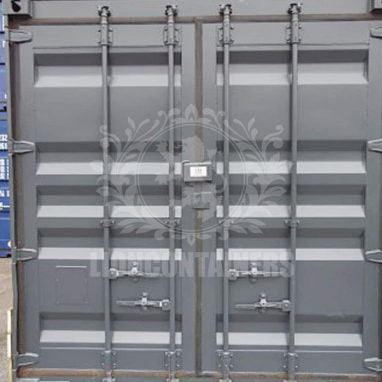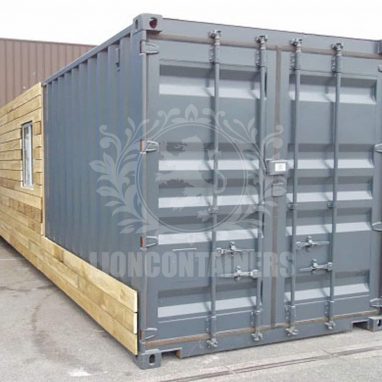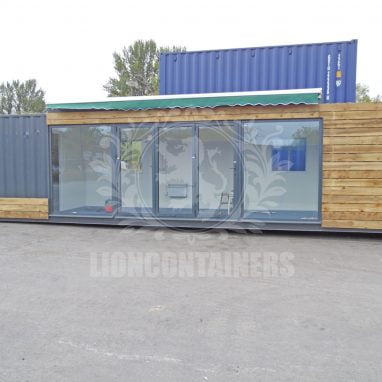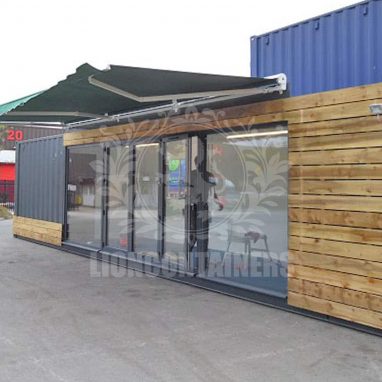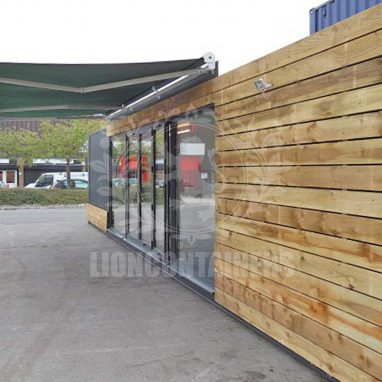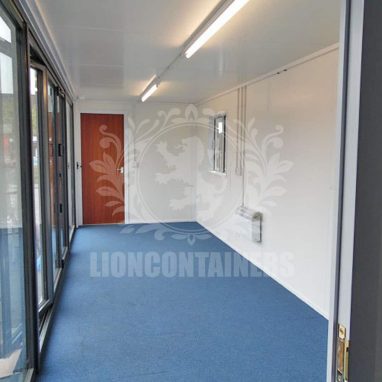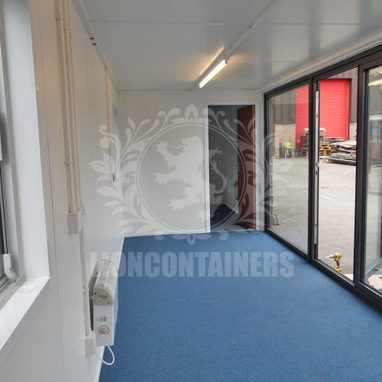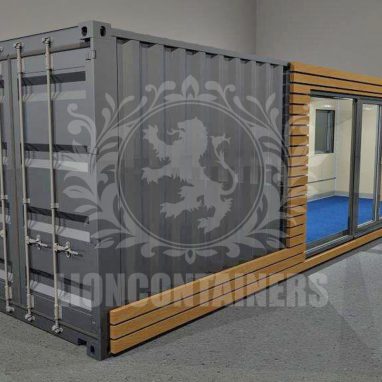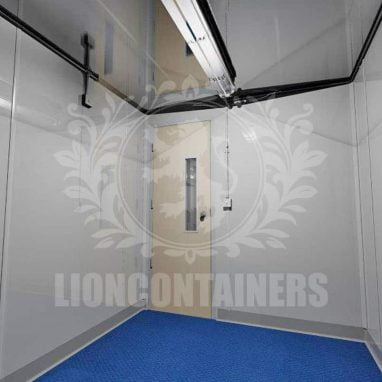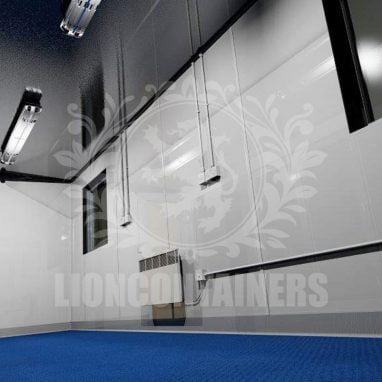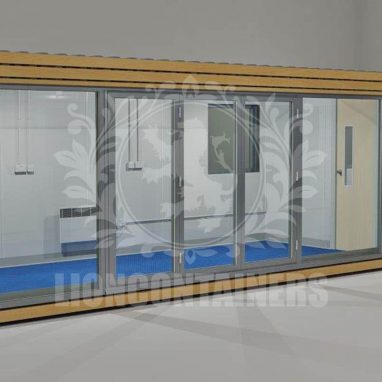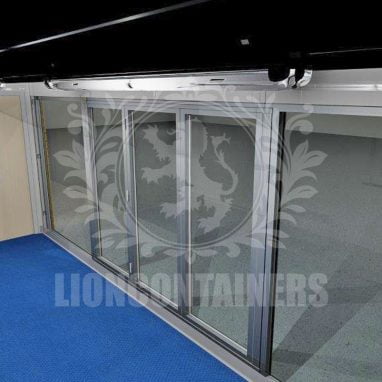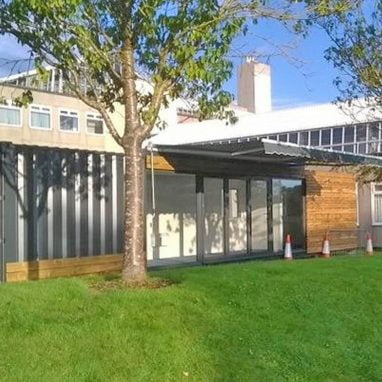 Project
Vitals
Container Size (Sq Ft)
300
Ready To Start Your Container Project?
We can help bring your idea to life, just fill in our form and a member of team will be in touch.