London
Container Case Study
We were contacted by a London supplier of Mediterranean and ethnic food and drink, who required a 16ft-high cube container for their business. Its intended purpose was for use as a locker room for their employees. Sinks were also required within the container alongside the lockers. However, due to the tight 2-to-3-week timeframe given by our client, they decided to fit those themselves at a later date.
Having sourced a quality used cube container to their requested measurements, we created an aperture-and-box frame to enable the installation of a standard insulated, weatherproof personnel door. This had a 10-point locking system with a 5-pin anti-drill Euro profile cylinder, and came complete with full door furnishings. A rainwater run-off strip was attached above the doorframe, and a tie-back was fitted behind the door to avoid slamming in rough weather.
Case Study
Summary
The container was prepared, masked and painted with blue, self-priming RAL 5010 specialised container paint. This gave the unit a smart, professional finish. Our 20ft crane lorry delivered and offloaded on-site with no issues to a very satisfied client.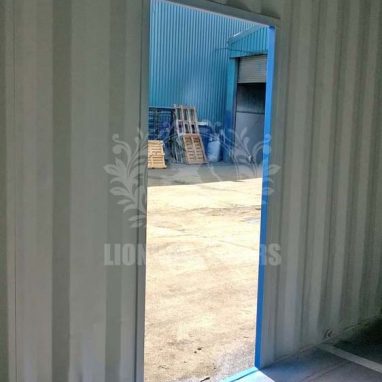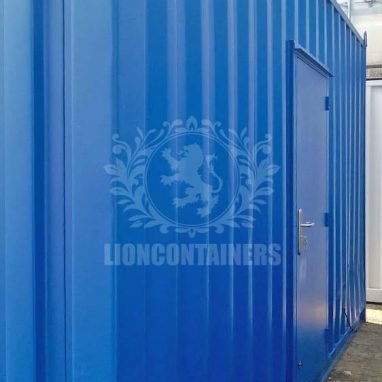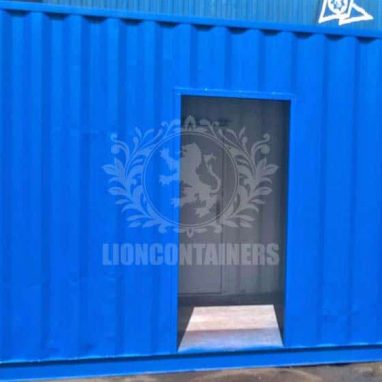 Project
Vitals
Container Size (Sq Ft)
120
Ready To Start Your Container Project?
We can help bring your idea to life, just fill in our form and a member of team will be in touch.