With the hotel and tourism industry ever on the increase, it is becoming increasingly difficult to find innovative new ideas regarding where spend your well-earned holiday and most of us opt for the same old hotel in the same old resort. But, we at Lion Containers have found some fantastic ways to spice up your hols, with funky new shipping container accommodation.

Shipping containers are very versatile, extremely strong and easily modified to provide hoteliers new and exciting ways of either, starting a new site or adding to an existing youth hostel or bed and breakfast to increase their occupancy. A
standard 20ft shipping container
actually has a larger footprint than most standard hotel rooms and so, with a little imagination, it's not hard to see how these big metal boxes can be transformed into fantastic accommodation rooms for your guests.
Internally, shipping containers can be modified as simply or as luxurious as you so wish; incorporating beds, washrooms with showers and toilets, entertainment such as TV's, radios and satellite, simple lighting or high spec mood lighting, balconies for those perfect views and multiple options for doors and windows.
The best thing about using containers for your next holiday destination is that it could be anywhere in the world! Shipping containers are so easy to move around by road, sea or air that you can literally follow your favourite sport or event across the globe capitalising on the ready-made market that it attracts and they fit together like building blocks!!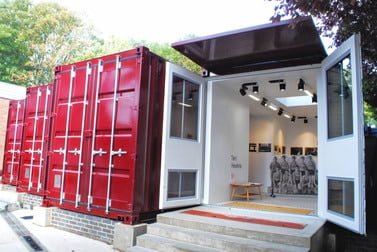 In essence shipping containers make the perfect building model for temporary or permanent hotel accommodation and are slightly more interesting than the usual, mundane rooms you normally get.
Post written by Mohammed Ahmed at Lion Containers Ltd