Our humble shipping containers aren't as humble as you may think. They are robust steel structures that are one of the best options for keeping your expensive equipment, family treasures and new stock secure and dry! They are also perfect for converting for a wide variety of uses. Here at Lion Containers Ltd we can offer solutions for everyone, whether you require a 10ft container to act as a garden shed to store tools, or a 40ft container to act as garage to store your car. You name the reason for your container and we've heard it!

The business for containers is forever growing as containers are probably the most cost effective method of secure storage. We can be extremely flexible with the sizes we offer, our standard size containers are 20ft and 40ft, but we work to
bespoke requirements
. If you require a 15ft container then a 15ft container is what you will receive. The demand for containers is
increasing from day to day because they:
Have a strong, steel and anti vandal structure.

Are cost effective.

Can be custom made or cut down to suit bespoke requirements.

Are quick and easy to site.
10ft Containers
The 10ft containers are not standard sizes but this does not stop us from holding a large number in stock. These units are cut down from much larger containers, but don't think for one second just because there cut down this means the condition will be affected; with all of our used cut down 10ft containers we fit a high security lockbox onto the easy open double doors and offer a free repaint on the units.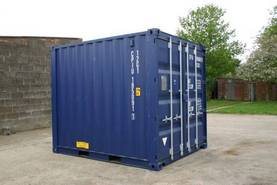 View further 10ft container information >>
20ft Containers

The most popular container we sell has to be the 20ft container and to be honest it's not hard to see why. 20ft containers are the standard size unit we offer along with the 40ft, but people go more towards the 20ft as they are approximately the size of a single car garage meaning they are a lot easier to site! These units are available in two conditions, one being a "new (once shipped)" or "grade A used". Our once shipped (also known as new, one trip, single shipper) units are manufactured in China and then shipped into the UK on just one occasion. The grade A used container term basically means it's been used on more than one occasion and will have a few bumps and scratches but that is just the nature of the equipment. These units, along with our new containers are guaranteed for 2 years although they will probably last up to 25 years if they are treated well! There are so many uses for these size units; I have recently just completed a job for a private individual who required
storage for his fish feed over the winter.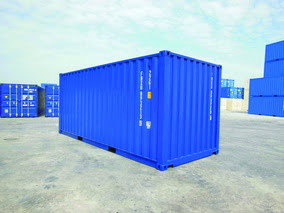 View further 20ft container information >>
40ft Containers

The largest standard shipping container is the 40ft container, which like the 20ft unit is available in grade A used or once shipped. We find that these units are used for storing larger items or big quantities. We have delivered these containers to a variety of customers nationwide, and as long as we can get one of our artic vehicles on site, we will deliver. If you require some more storage space then we also offer 40ft high cube containers, these 9ft 6in high (the standard units are 8 ft 6in high). 40ft high cube containers are becoming more and more common, especially used units, as it makes sense for shipping lines to use the taller units at near enough the same cost as the shorter units. When speaking with our sales team its certainly worth asking about!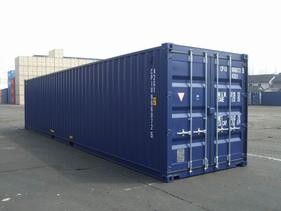 Blog Post Written By Lewis Westley at Lion Containers Ltd