The majority of shipping container dealers in the UK offer wind and water tight containers of very high quality at initial quotation stage. However, if you require a cheap container, the standard and weatherproofing of your container may change with the price, it is important if you require a weatherproof container to state this to your supplier as whilst dealers may hold cheaper stock they may not match up to the products advertised on their website or products that they would normally supply. The image below shows what your cheap container may actually look like.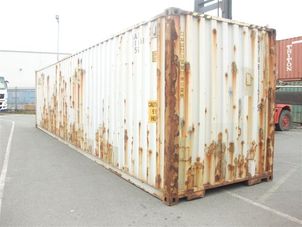 As with any product, you get what you pay for. Approach cheap containers with caution, if the deal looks to good to be true it often is! Best practice for obtaining the product that you require in the condition you require is to phone 3 to 5 dealers to find out what the average price is. If something is very cheap, it is cheap for a reason! Ask the following questions of your supplier to ensure your cheap container is not going to let you down:
Is the container weather proof? (Get this in writing!)
Does the container have marine ply flooring? Is this free of holes and of sound structure?
What is the containers year of manufacture? (This is normally available to view on the CSC Plate of the container from original manufacture, unless the container has been converted in any way)
Does the container have standard cargo doors?


When you are satisfied that the container that you have been quoted on suits your requirements ensure that you have everything that you have discussed in writing. Of course, if you do require a cheap container which is not weatherproof, some suppliers may be able to assist with this requirement – just be aware that this would be an ad-hoc sale and the container may not match the expectations you have obtained from a suppliers website.




For more information or for container prices call Lion Containers on 0333 600 6260.