Oh dear! Thankfully
(and according to
Nandu.com via Shanghaiist)
both passengers escaped unhurt when a shipping container fell on top of an Ausi S5! We don't know how it happened, but it certainly doesn't look pretty and the passengers are extremely lucky! The disaster happened near Quanzhou in China, and although the doors could be opened afterwards, the roof was completely flattened!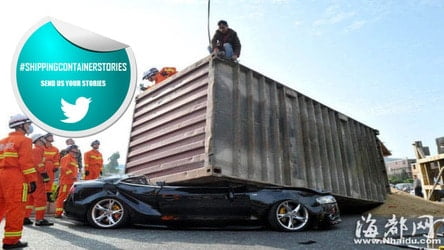 We would love to hear from you if you have found something interesting, or have done something interesting with a shipping container. Let us know and we'll publish your story with a link to your company (if applicable), we will also publish it on Twitter with the hashtag #ShippingContainerStories. Email
marketing@lioncontainers.co.uk
with your story.