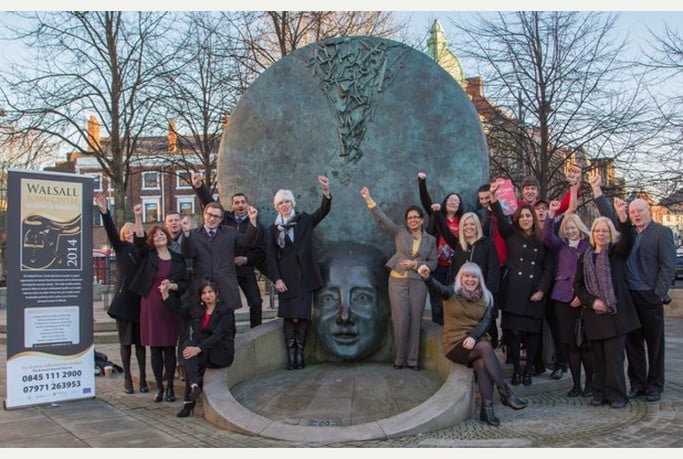 Sophie (seated right) and Laura (3rd from right) with some of the Walsall businesses who entered. Click image to enlarge.
ORGANISERS of a new awards scheme for Walsall firms believe the calibre of entries from independent companies show business in the town centre is on the up. Around 35 companies have entered the Walsall Town Centre Business Awards so far, which aim to showcase a wealth of achievements and success stories.
Award organisers say the quality of entrants illustrates that, far from following a reported national downturn, resourceful Walsall independent businesses are forging forward. Anne Ward, of Enoch Evans Solicitors – who is president of Walsall Chamber of Commerce – said the initial flurry of entries from flourishing independent companies offers a beacon of hope for economic recovery and bucks a national 'doom and gloom' trend. She said: "
All hopes, which motivated the team from the outset, appear to have been realised beyond belief. "We have been delighted with the interest and support from the local business community, but what has been both a surprise and heartening to see, is the optimism of future business growth with businesses reporting on expansions and diversification in their services."
The scheme was launched as a joint venture between the Black Country Chamber of Commerce, Walsall Council and local businesses. Awards will highlight service excellence across industry sectors including Independent and National Retailer of the Year, Eatery and Bar or Club of the Year, Health and Beauty of the Year, Professional Services and Market Trader of the Year. Read more:

http://www.walsalladvertiser.co.uk/Dozens-borough-firms-enter-Walsall-Town-Centre/story-20338221-detail/story.html
An independent judging panel will shortlist entrants and shortlisted businesses will then be 'mystery shopped' to decide an overall winner for each category. Lion Containers Ltd are delighted to announce that they are in the final 3 for both of their categories ("Professional Services Firm of The Year" and "Employee of The Year" for Laura Hucker – nominated by her staff). A film crew came to our office this week to film our finalists video which, along with the award winners, will be shown/announced at a formal presentation dinner at Walsall Town Hall on March 14 2014.