Lion Are Back at the Royal Welsh Show
With summer agricultural shows in full swing, the Lion Containers team were back on the road for one of the UK's biggest agricultural events of the year – the Royal Welsh Show.
After the success of last year's show, we knew we had to be in attendance again and so the Lion team returned to Llanelwedd, Builth Wells with our most popular trade stand, The Dollhouse.
In true Royal Welsh fashion, the grounds were bustling with visitors excited to celebrate the richness of Welsh culture and discover what's new in the agricultural industry.
This year's visitors were surprised to see the versatility of shipping containers first hand with our tri-fold stand which showcases a shipping container office, storage unit and workshop. They also got a sneak peek at Lion's new look, pictured below: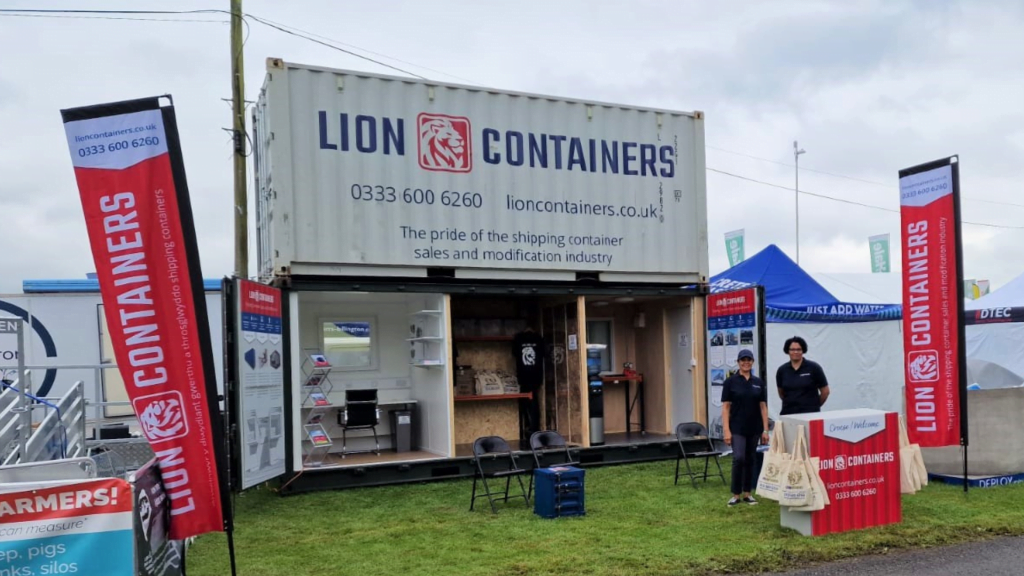 With the Royal Welsh Agricultural Society's commitment to hold space for demonstrations of modern agricultural methods, technology and processes, the summer agricultural show season is an exciting time for farmers, distributors, and enthusiasts to explore the latest innovations in the industry. Among the sea of exhibitors and vendors, one sector stands out for their unique approach to agricultural logistics: shipping container solutions.
Due to their portable nature and modification ability, shipping containers have quickly become a one-stop solution to storage and production challenges for farmers and landowners.
Shipping containers provide a secure, cost-effective solution for weather-proof storage for farmers and landowners looking to store heavy-duty equipment, animal feed and more. Their steel structure keeps them water-tight and secure to help keep inventory in prime condition all-year round.
Additionally, modified units can be transformed into fully functional spaces to aid farming and sustainable production. Our modified containers range from refrigerated growing farms to chemical stores, workshops and pop-up stands for farmers' markets. Moreover, they can be equipped with plumbing, electricity, and shelving, to create versatile spaces for any domestic or business needs.
In a world where the demand for sustainable agriculture and living practices continues to rise, shipping containers emerge as an indispensable tool for the agricultural industry. As more farmers and landowners discover the advantages they offer, we can expect to see an even greater impact on the way we grow and transport agricultural products.
So, the next time you attend an agricultural trade show, be sure to keep an eye out for a Lion Containers stand!