What is a cargo ship or a freight ship? Cargo ships are the main source for transporting cargo, goods and materials from one country to another, using shipping containers. There are many cargo ships travelling the world's wonderful oceans each year and maintaining the extent of international trade.


The earliest container ships were converted tankers, which were built after World War II in 1952. One of them, the Ideal X, was converted to carry shipping containers in 1955. The Ideal X had the ability to carry 58 shipping containers. Now just imagine how big this ship was, it was 21m in height and 160m long, that's nearly as long as the Broadgate Tower in London! Sound big enough?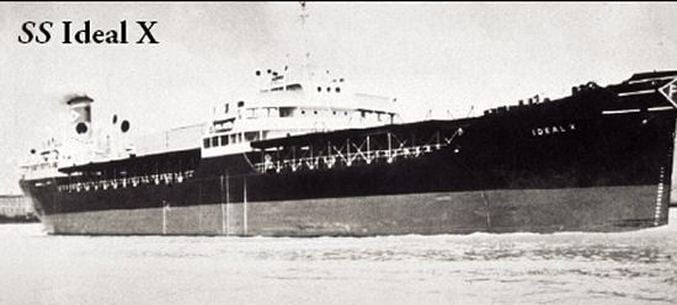 Wait! It doesn't end there, we are talking about one of the first ever container ships used in 1955, its 2015 today and things have moved up a level. These ships have got bigger and the question is how much bigger can these container ships get? Well there's no surprise, perhaps, given the amount of goods produced in others countries and transported around the world, that these are giant attributes to our global trade.
We've said it loads of times, shipping containers can be used for anything but their original purpose is to transport cargo from one place to another. With a huge demand on the market for various types of products, these ships have grown bigger. Like the one we saw in the Port of Felixstowe, the CSCL Globe, which has an amazing overall length of 400m and an amazing height of 400m, now that's as tall as the Dimona Radar Facility, constructed in Israel which is used to detect missiles 1500 miles away. The CSCL Globe (below) has the capacity to carry 19100 TEU (Twenty-foot equivalent units) which would stretch out 72 miles if they were laid end-to-end! Even though the CSCL Globe is the largest constructed container ship, it can't carry more than the MSC Oscar which isn't as large as the CSCL Globe but has the capacity to carry an extra 124 TEU.

That's a huge jump from one of the first ever container ships, having the ability to carry 58 units to the largest ever carrying 19224! So we can now see why they have grown bigger and it's all down to the extensive global trade! The world's trade is getting larger still, so don't expect the CSCL Globe to hold the title for too long! With bigger ships, you can carry cargo more efficiently, so on that basis bigger is better!

Fact: A container ship travels the equivalent of three-quarters of the way to the moon and back in one year during its regular travel across the oceans.
Blog Post Written By Mohammed Ahmed at Lion Containers Ltd