Look away now if you are faint at heart! Just imagine opening this 40ft container, we're glad it wasn't one of ours! It was opened at the port of Mombasa and in it was 10 huge cartons comprising of plastic human skeletons, skulls, limbs, palms, huge black spiders, tombstones, corpses, mummies and bats.

Apparently it had been imported from China by "a very famous" Kenyan politician. Some superstitious people at the port claimed the items are used in the occult and by cults with temples in Mombasa, Nairobi and Kisumu. But it was more than likely imported for Halloween celebrations.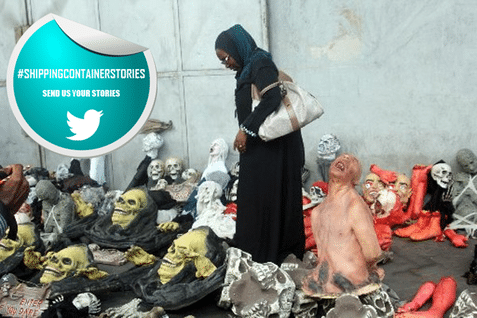 Kenya Revenue Authority southern region senior assistant commissioner Fatma Yusuf said investigations had been launched into the cargo and its importer would be named in due course. "The 40-foot container arrived from China as normal household goods and mixed hardware. But on 100 per cent verification, we discovered unconventional goods that include fake human parts like hands, legs, skeletons, among others," said Ms Yusuf. She said declared goods in the same container included curtains, fridges, washing machines, ovens, gas stoves, microwaves, tiles, locks and shower cubicles.
We would love to hear from you if you have found something interesting, or have done something interesting with a shipping container. Let us know and we'll publish your story with a link to your company (if applicable), we will also publish it on Twitter with the hashtag
#ShippingContainerStories. Email
marketing@lioncontainers.co.uk with your story.