More than 260kg of drugs used to manufacture methamphetamine have been found hidden in a shipping container. The consignment was big enough to produce methamphetamine with a street value of approximately $72 million, Detective Inspector Bruce Good of Organised and Financial Crime Agency of New Zealand said.
Detectives worked alongside customs officers to intercept 248 kilograms of Pseudoephedrine, commonly referred to as ContacNT, and 16 kilograms of pure Ephedrine, which was discovered when a container ship arrived at Ports of Auckland on Sunday morning. Police said the intelligence gathered during Operation Ghost was critical in the bust. Operation Ghost, an 18 month intensive multi-agency investigation, focused on a group of senior Asian organised crime figures operating in New Zealand.



"
While we were confident our intelligence was accurate it was still a huge relief when we opened the shipping container at the Customs inspection facility and the drugs were discovered," Mr Good said.
ContacNT is manufactured legally in China but it is a class B controlled drug in New Zealand.
[Source: ONE News]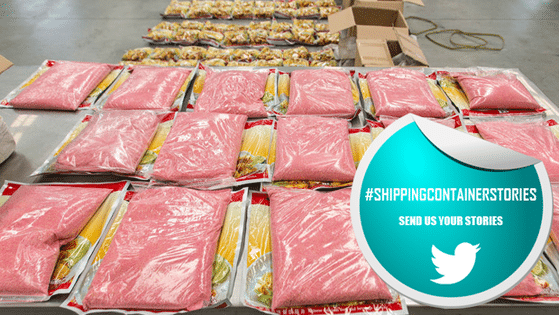 #ShippingContainerStories

We would love to hear from you if you have found something interesting, or have done something interesting with a shipping container. Let us know and we'll publish your story with a link to your company (if applicable), we will also publish it on Twitter with the hashtag
#ShippingContainerStories
. Email
marketing@lioncontainers.co.uk
with your story.